Building Your Own LEGO Robot

By
.(JavaScript must be enabled to view this email address)
August 30, 2006
|
Share

Del.icio.us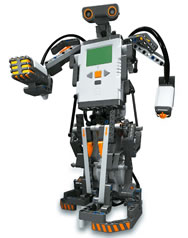 LEGO MINDSTORMS NXT
As I was growing up, a part of my toy collection included a LEGO set. It was so simple, yet so fulfilling. I enjoyed building different things and making my own creations with what I was given. LEGO is still around, but times have changed. I never thought I'd be playing with LEGO as an adult, but I have no shame. I admit that I've been playing with a LEGO set. Too cool to resist, LEGO MIND-STORMS NXT just hit the stores this month, and it gives LEGO a robot twist.
LEGO MINDSTORMS NXT is a robotics toolset that provides endless opportunities for you robotics and LEGO fanatics (ages 10 and older) to build and program robots to do what you want. It comes with a NXT Intelligent Brick, three interactive servo motors, sensors and programming software. The Intelligent Brick is considered the "brain" of your robot, and includes a 32-bit microprocessor, four input ports, three output ports, seven six-wire cords, a matrix display, real sound speaker, USB 2.0 and Bluetooth. The three servo motors bring your creations to life as the rotation sensor measures 1 degree steps for precise movement.
There are four different sensors on your NXT. The Ultrasonic Sensor is considered the "eyes" of the robot and measures distance, movements and detects objects.
The Sound Sensor, known as the "ears," allows your creation to react to sound commands and patterns and recognize tones. The Touch Sensor gives you the "fingers," and will react to touch or release. The Light Sensor will detect different colors and light intensity.
Additionally, the programming software, powered by LabVIEW from National Instruments, is easy to use with its drag and drop environment for "building" programs, and compatible with your PC or Mac. There are 18 robot challenges with step-by-step building instructions to get your feet wet with the process. You can create just about anything from humanoids to animals to machinery or vehicles, using the 519 hand-selected elements from the LEGO TECHNIC building system.
My favorite feature is the Bluetooth capability. I can transfer all my programs to my NXT from my computer wirelessly. I can also control the robot with Bluetooth via my cell phone (or if I had one, a PDA). If Bluetooth intimidates you, use the included USB 2.0 cable to directly connect the NXT to your computer. Either way, after you complete the downloads, your robot will take on a life of its own, completely autonomous from your computer.
The NXT is the next generation of LEGO MINDSTORMS and is built upon the success of the globally renowned Robotics Invention System. "When LEGO MINDSTORMS launched, we fundamentally changed the way people viewed LEGO building and play, and helped spark the trend of affordable and attainable consumer robotics," says Jorgen Vig Knudstrop, CEO, LEGO Group. "We've developed the new toolset with expanded components and capabilities to challenge our existing community of dynamic fans. Meanwhile, the system's new software, design and 30-minute quick-start program are geared toward recruiting a new, younger generation of robotics enthusiasts," he added. This little toy just makes it possible for people like you and me to build our own affordable robot.
Find a LEGO MIND-STORMS NXT of your own for $249.99 at www.legoshop.com. There you can also purchase additional pieces for your robot.
Most Recent Comment(s):