Catching Football Fever

By
.(JavaScript must be enabled to view this email address)
August 26, 2005
|
Share

Del.icio.us
Football Fever!
I admit that I was never much of a football fan before I met my husband Alan, but he's definitely turned me onto football by taking me to all the University of Hawaii games and having me watch Dallas Cowboy games with him. As I'm looking forward to the 2005 football season just around the corner, I've been playing the recently released Madden NFL 06 (with my Dallas Cowboys team, of course) on my Xbox.
This is the 16th year that Electronic Arts (EA SPORTS) has released a version of Madden NFL Football. With more than 40 million copies sold, it continues to be the No. 1 football franchise. Last year's Madden NFL 2005 focused on improving the defensive game, but the new Madden NFL 06 goes the opposite direction with the addition of an offensive arsenal. A few of the new features are:
• Quarterback Vision Control: You see a cone of light that represents exactly what your QB can see. Each QB has a different field of vision, depending on his rating. This feature makes it tougher to hit receivers outside the QB Vision Control.
• Precision Placement: This allows you to choose exactly where to throw the ball. Lead the receiver across the middle or take a little off the deep pass to set up a jump ball.
• NFL Superstar Mode: Experience the life of an NFL player by earning one of more than 60 personas ranging from MVP to movie star. You can even take an IQ test and choose your parents and a house. This can only be used in single-player mode. You also see improved graphics, more scripted scenes, and new replays and sequences. In addition, there's the EA SPORTS Fantasy Football integration that allows you to check fantasy scores, obtain trade notifications and earn trophies.
If just playing for yourself doesn't satisfy you, try your hand in the 2005 EA Sports Madden Challenge for a chance at winning $100,000. The other part of the prize is a trip to our home state to watch the Pro Bowl — yeah, I know, not much good, but I would still do it for the cash! The challenge takes place in various cities, but unfortunately there are no competitions here in Hawaii. However, if you happen to be in Las Vegas or on the West Coast, you can compete in one of the many games there. Log onto www.maddenchallenge.com to see a complete schedule If you like football, you will definitely enjoy Madden NFL 06. It is rated E for Everyone and is now available for the PlayStation 2 (PS2), Xbox, Nintendo GameCube, Nintendo DS, Game Boy Advance and the PC. In addition, the rookie PSP version will be released Sept. 27. You will be able to cross-link between your PSP and PS2 for at home or on-the-go play. Madden NFL 06 is $49.95 at your nearest CompUSA, Toys n' Joys or Toyriffic.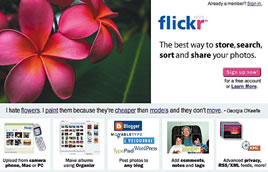 For a free way to share your photos online,
check out Flickr at www.flickr.com
Flickr Your Photos. I've always been a fanatic behind the camera, and these days even more so with the advancements and convenience of digital photography. I never leave home without my digital camera. To share my photos with friends and family, I was previously using Apple's web photo sharing service, but had to pay an annual fee for a very limited amount of space. Although I knew about Flickr for awhile, I just started using it about a month ago. It's a free photo sharing service, and I use it as a photo blog and frequently update it with the pics I snap around town.
Flickr, from Yahoo!, is probably the best free way to share your photos with the people who matter to you. It allows you to store, sort, search and share your photos online. Once you sign up, you will receive your own link to your personalized photo collection, the ability to set up contacts between your friends and family — and you don't need to worry about security. You can set permissions on each picture to be public or private (with a further option to be only viewed by friends or only viewed by family).
The free account allows you to upload 20 megabytes of photos per month. That can go far, especially if you upload your pictures in a small size. The free option also gives you three photosets (albums), which you maintain with Flickr's Organizr program. If you pay a nominal fee of $24.95 a year, you can upgrade to the Pro account. Pro allows you to upload up to 2 gigabytes of photos per month, unlimited total storage and photosets, permanent archiving of your high resolution images and ad-free browsing and sharing.
Uploading photos is simple with the free downloadable software. There's even a plugin for iPhoto (Mac), which is what I use. You can even upload photos with your camera phone or via e-mail. If you have a blog, you can also use Flickr as the storage for your blog's photos. It works with just about any site such as Blogger (which I recently wrote about), LiveJournal, Movable Type or Manila.
Check out Flickr for yourself at www.flickr.com.
Most Recent Comment(s):