CellPoint's Flamingo Music headset

By
.(JavaScript must be enabled to view this email address)
May 16, 2008
|
Share

Del.icio.us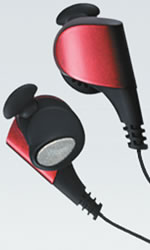 Yet another product I came across at the Consumer Electronics Show (CES) earlier this year was the Swedish CellPoint Connect's Flamingo Music headset. It was an honoree for the CES Innovations Design and Engineering Showcase 2008. If you're one those people who can't seem to find a perfect fit for earphones, CellPoint's Flamingo Music headset may be for you.
"The release of the Innovation Honoree Wired Headsets is the first step in the expansion of CellPoint's portfolio since the successful acquisition and merger of Gennum's headset business unit," said Katarina Henriksson, CEO of CellPoint Connect AB. "The addition of Flamingo Music to our product line represents a major step in bringing the comfort of EarClick technology to a wider demographic."
At first glance, I thought the Flamingos were big and bulky and questioned,"What's the big deal?"
It's the patent-pending EarClick technology that sets this apart. The EarClick is a little piece at the top that enables the earphones to "click" right into your ears. The ear buds fit firmly just outside your ear canal with a little rubber pad that nudges between the ridges of your ear. These ear buds are designed to stay secure and feel weightless, especially with active use (i.e. running or biking), and will not become uncomfortable or sore after prolonged use. Additionally, unlike other earphones, these allow outside air to flow into the ear to prevent sweat or pressure build-up.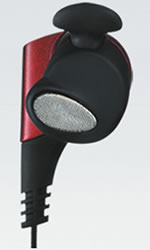 The EarPads come in six different sizes, so you need to go through them to see which one fits you best. I went through a few before getting the perfect fit. It feels strange and a little bulky putting them in at first, but I became used to them right away.
I initially took the Flamingos out on a six-mile run, and not once did they slip out of my ears. The sound is pretty good, but perhaps a little weak on the bass.
The sound comes out so clearly and close to the eardrums that it almost passes as noise cancellation. I wouldn't exactly compare it to my Bose Noise Cancelling Headphones, but they're very good to use while running. I wish I had these in my ears when I ran the marathon. With my ears drenched from all the rain coming down, the headphones I was wearing kept popping out of my ears. The EarClick would have easily prevented that from happening.
I also enjoy the fact that the cord is made out of a cloth material, so that it moves easily and doesn't drag down as I run. On the downside, since it is cloth, it easily tangles and becomes knotted.
The Flamingo is designed to work with an iPhone (minus a microphone), iPod, mp3 player or other home and personal audio devices. It comes in chrome, black, red or white and sells for $59.99. Since this just came out, I haven't seen it on the retail market yet, but we'll start to see it soon at www.buy.com, www.ecost.com, www.newegg.com or www.staples.com. In the meantime, check out www.cellpoint.com for more information.
Most Recent Comment(s):