CES 2012 Highlights

By
.(JavaScript must be enabled to view this email address)
January 18, 2012
|
Share

Del.icio.us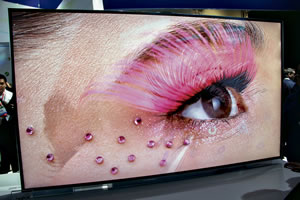 Samsung unveiled its 46to 65-inch ES8000 LED TV. Alison Stewart photo
The 2012 International Consumer Electronics Show (CES) commenced last week and featured a record number of exhibitors with more than 3,100 companies on the show floor. It exceeded 1.85 million net square feet of exhibit space!
The main cutting-edge products this year included ultrabooks, voice and gesture-based technologies, smartphones and OLED TVs.
One of the biggest buzzes at the show was that this is the last year Microsoft will be at a CES. While Microsoft president and CEO Steve Ballmer delivered Microsoft's historic last CES keynote address, he surprised the audience with Ryan Seacrest as his co-host and announced that the Microsoft Kinect (unofficially nicknamed the Kinect 2) will come to Windows Feb. 1. They demonstrated the new Xbox experience with Kinect, and will provide an entertainment hub with a new personalized viewer experience. Ballmer also demo'd the new Windows phone models Nokia Lumia 900 and HTC Titan 2, and provided a sneak peek at Windows 8.
Next was the ultrabooks. It seemed almost every company had its own ultrabook to debut. In short, an ultrabook is a thin, sleek laptop, slightly larger than a netbook, but much faster. Apple's MacBook Air was the first ultrabook to hit the market two years ago, and now the rest of the industry is catching up.
The best ones I saw were probably Lenovo's IdeaPad Yoga, which is a Windows 8-powered ultrabook that transforms into a 13-inch tablet. Additionally, Acer's Aspire S5 and Timeline Ultra, as well as HP's Envy 14 Spectre really stood out.
New TVs seem to be coming out every day, but LG announced its phenomenal 55-inch 3D OLED TV. The 1-mm bezel is almost nonexistent, and it boasts a contrast ratio of more than 100,000,000:1, 50 times greater than that of LED/LCD displays. These OLED TVs display vivid colors and fine detail, helping to preserve images with utmost clarity and sharpness, even when displaying scenes with dark lighting.
Samsung unveiled its 46to 65-inch ES8000 LED TV that has a built-in camera and microphone for facial, gesture and voice recognition, and it uses Samsung's Smart Interaction to listen and see your commands. The picture quality isn't the best, but this is perhaps the way of the future: You don't have to use a remote! Samsung also teamed up with NBC Universal to create 3-D shows (i.e., Battlestar Galactica) that you can stream right to your TV.
And, to add to the TV pool, Sony announced a Crystal LED display. The company used a 55-inch prototype at CES to display the new technology. This new display is self-emitting and uses Sony's method of mounting ultrafine LEDs in each of the RGB colors, equivalent to the number of pixels. There are approximately 6 million LEDs in full HD. The light source is mounted directly on the front of the display, which increases light-use efficiency and, more importantly, a much more vibrant and colorful picture. The display will be able to produce images with higher contrast, wider color gamut, superb video image response time and wider viewing angles when compared to current LCD and plasma displays. The power consumption also is extremely low at under 70W. So far no release date.
Stay tuned for more!
Most Recent Comment(s):