Checking Out The New Zune HD

By
.(JavaScript must be enabled to view this email address)
October 28, 2009
|
Share

Del.icio.us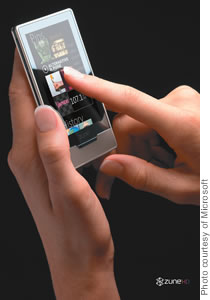 By popular request from many friends, I had to take a look at the Zune HD, Microsoft's first portable multimedia player that combines a built-in HD radio receiver, High-Definition (HD) video output capabilities, organic light-emitting diode (OLED), touch screen, Wi-Fi and an Internet browser. Other than the radio capability, you could say it's similar to Apple's iPod touch.
Before I go any further, let me clarify a common misconception: The "HD" in HD radio does not stand for High-Definition as it would for HD video. It is the trademark/marketing tool for iBiquity's in-band on-channel (IBOC) technology that was selected by the Federal Communications Commission as a digital broadcasting method for the United States. Essentially, the "HD" has no real meaning.
Note that Hawaii has six HD radio stations: 98.5, 93.9, 92.3, 101.9, 100.3 and 105.1. This is the first time I have a device that can actually play HD radio, and these six stations sound the same as any other "regular" radio station. I cannot hear the supposed "higher quality sound," but I do enjoy being able to switch back and forth between the HD1 and HD2 channels that most of these have available. I wish my iPhone or iPod touch could do this.
That aside, other than the obvious new slender look of the Zune HD, the biggest change is in its software. The new interface is simple and easy to navigate through with its large typography. Being accustomed to the iPhone/iPod touch, going through the menus required a small learning curve for me, but I adapted to the change within a couple of minutes. The sensitivity of the touch screen is different. It's not as reactive as tapping on my iPhone, and it does-n't feel as fluid. But the Zune HD's display looks extremely sharp (16:9 widescreen display, 480x272 resolution). A huge plus is the ability to play back HD video files in 720p from the Zune HD using a docking station (sold separately for $90).
In addition, you have access to a limited amount of apps such as a calculator or the MSN Weather application. Later this year, there are plans to release other apps such as Twitter, Facebook, and 3D games like Project Gotham Racing: Ferrari Edition. As you would download apps, songs and videos from the iTunes Store on an iPhone/iPod touch, you would acquire these for the Zune HD from the Zune Marketplace.
There's nowhere near the selection of apps/media you would find on the iTunes Store, but I have a feeling it's not Microsoft's goal to compete with the iPod touch here. The bottom line: The Zune HD is a great media player and big improvement on the original Zune. This would have been better as a media phone ... maybe in the future?
It comes in 16GB ($220) or 32GB ($290), plus you need to subscribe to the $15/month Zune Pass (which gives you access to everything on the Zune Marketplace). Buy it at your nearest Best Buy (bestbuy.com) or find it online at Zune.net or Amazon.com.

Click Chick's iPhone App of the Week: Labor Mate
There must be something in the water because I have many friends and friends of friends who are pregnant or just gave birth recently. A tip from one of them who recently gave birth: White Peak Software's Labor Mate app. It's a labor contraction stopwatch and your best friend if you have your iPhone in-hand while you're having contractions.
Instead of thinking about or counting your contractions, you tap the labor stopwatch as the contractions stop and start. Labor Mate then tracks the information and reports the timings back to you in an easy-to-read format so you'll know when it's time to call the doctor and head to the hospital. Find Labor Mate at the iTunes Store for 99 cents.
Most Recent Comment(s):