Clearwire Shows Its Net Worth

By
.(JavaScript must be enabled to view this email address)
September 08, 2006
|
Share

Del.icio.us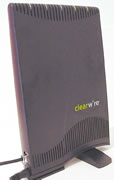 Clearwire
As I was moving into my new house this past weekend, having no cable or Road Runner Internet installed yet, it was a perfect opportunity for me to test Clearwire's new Internet service that launched in Hawaii last week at the 2006 Entertainment & Tech Expo. The folks at Clearwire graciously loaned me one of their modems for a few days to try out the service.
Clearwire Wireless Broadband is a wireless high speed Internet access provider that offers a portable solution to both residential and business customers. It utilizes next-generation, non-line-of-sight (NLOS) technology. It connects you to the Internet using the licensed radio spectrum (cellular towers), and eliminates the confines of traditional cable or phone wiring. The signal is sent wirelessly from the transmitters to your special receiver modem. All you need to do is plug the modem into an electrical outlet and into your computer with an Ethernet cable. If you want to be a little more advanced, plug the Ethernet cable into a wireless router and use it wirelessly around your house, or wherever you are - which is exactly what I'm using as I write this. The modem is extremely user-friendly.
Just plug it into the wall and it works - no additional software required, and it's compatible with both PC and Mac.
At first (before I actually plugged it in), I was a little skeptical about the speed. The advertised speed is up to 1.5 Mbps download and up to 256 kbps upload (25 times faster than dial-up). I also wasn't particularly thrilled with the fact my computer was required to be plugged into the modem all the time, but once I discovered it worked with my Airport (wireless router), I felt better.
I first cracked the box open with my brother at my new house. He naturally had his laptop with him, and at first the modem only had one light (out of five), and he did a speed test at about 120 kbps download and about 60 kbps upload. A little disappointed, but once we positioned the modem just right, we had two lights. With the two lights on, and using my laptop (with my Airport), I received very close to the stated speeds - 1.4 Mbps download and 252 kbps upload. I was impressed.
I was still able to stream music, do online chat and run World of Warcraft with no lag. It's still not as fast as cable Internet (average 3Mbps download, 384 kbps upload), but did its job with my "nothing available" situation, and I'd say pretty awesome for a mobile situation, as long as you have a power source.
Kevin Inn, Clearwire Hawaii's general manager, is excited to launch the service here in Hawaii. "We're very excited to be launching Clearwire service on the island of Oahu, and we believe this community will be excited about Clearwire, too," he said. "This market seems ready and willing to adopt new technologies, and we believe the portability aspect will be very appealing to both small business and residential consumers. With Clearwire, they'll be able to online at high-speeds anywhere within our coverage area - here on Oahu, on Maui or in any of our other Mainland markets," he added.
So far Clearwire is available in most major areas of Oahu and Maui (and expanding). There are Clearwire kiosks at Ala Moana Center, Ward Entertainment Center, Windward Mall and Pearlridge Center. Best Buy and some of the Longs Drugs stores are authorized retailers of Clearwire. For more information, call 888-CLEARWIRE or check out www.clearwire.com.
Most Recent Comment(s):
For all comments click here.