Click Chick hits Korea's tech town

By
.(JavaScript must be enabled to view this email address)
November 21, 2008
|
Share

Del.icio.us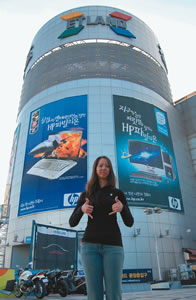 I've been in South Korea for the past couple of weeks on a work trip, and thankfully at the end of the visit I had a chance to venture out into Seoul's Yongsan - I call it Korea's version of Japan's Akihabara (the Tech Mecca).
The Yongsan Electronics Market is the largest area in South Korea where you'll find an assortment of almost anything you need in relation to computers, software, hardware or appliances. The area is comprised of more than 20 buildings with 5,000-plus stores. It's overwhelming to walk through, and even in an entire day I didn't have time to see everything.
Finding my way there was very easy. Most of the signage was in Korean and English, so it was simple to navigate. It took about 45 minutes to get there on Subway Line 1 (disembarking at Yongsan Station). Other than seeing Christmas decorations already up, one of the first things that caught my eye was an E-Mart located right outside the train station. I think it is Korea's version of Wal-Mart. It has everything you can think of for your house, including groceries, yet it didn't have a very big electronics section (but it did have Nintendo Wiis in stock).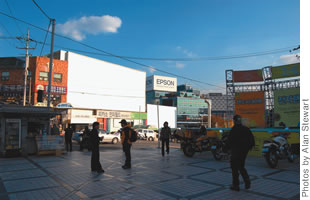 Wandering around Yongsan was a blast, but fuzzy since everything looked the same. Aggressive salespeople popped out everywhere trying to sell me anything from light bulbs to RAM to electrical plugs. Of course, they were all speaking to me in Korean, so I didn't really know what they were saying, but I took a good guess because of what they were waving at me. If you're looking to build a PC from scratch, Yongsan is the place for you. On average, everything there cost about 20 percent less than what you'd pay here in the United States.
It amazed me how there could be so much of the same of everything. For example, there are 10-plus cell phone stores squashed next to each other (in multiple places) and they're competing with each other! This was the same story for many products - dedicated stores for RAM, strobe lights, records with old-style audio equipment, lighting equipment, printer toner cartridges and games, just to name a few.
Each store's procedures differ. Some allow bartering and others give you a set price.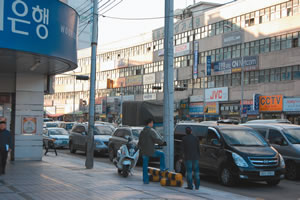 The ones that have the non-negotiable price also tend to offer you brand names with warranties. If you walk into a store with no price tags, you know you're allowed to barter.
Overall Yongsan didn't impress me as much as Akihabara did."Aki" has otaku (manga, anime and toys - all those action figures). My other big observation is, although you can find just about anything you need, there wasn't as much innovation as you would find in Japan.You see mostly straightforward parts or "regular products" (i.e. cell phones, cameras).
Despite the difference between the two cities, you still won't see anything remotely similar to it in our country, so if you're ever in South Korea, Yongsan is a place you should definitely visit. A side note not related to Yongsan: The whole time I was near Seoul's Han River I kept thinking about the movie The Host
(2006) and the monster emerging from the river and attacking people. It was neat seeing some of the places along the river where the movie was filmed, and I was half-expecting to see that thing pop up out of the water!
Most Recent Comment(s):