Clicking Away With diNovo Mini

By
.(JavaScript must be enabled to view this email address)
May 14, 2008
|
Share

Del.icio.us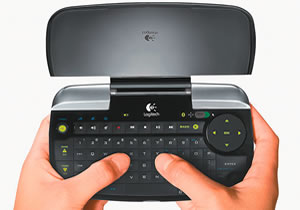 One of my favorite products at the Consumer Electronics Show (CES) earlier this year was Logitech's diNovo Mini palm-sized remote and ClickPad. It was an honoree for the 2008 CES Innovations Award and became available for purchase in February. It's a small keyboard that fits right in the palm of your hand, similar to a Blackberry. The diNovo provides an excellent method to control your computer or PlayStation 3 (PS3) remotely.
"The Logitech diNovo Mini keyboard extends Logitech's tradition of developing innovative products to meet the changing times," said Denis Pavillard, vice president of product marketing for Logitech's keyboards and desktops. "Today, more and more people are hooking up their PCs to their TVs. The sleek, minimalist design and thoughtful function make the diNovo Mini keyboard the perfect complement to the living-room or home-theater PC."
Out of the box, setting up the diNovo Mini is a piece of cake. I popped in the battery, plugged it in for its first charge, and while it was still plugged in, I used it to browse through my MacBook Pro and PS3. The software that comes with it says it's compatible with Windows XP/Vista, but it's a Bluetooth device so I had no problems with it on my Mac. I suppose if you're using a PC it wouldn't hurt to install the included software.
Using it on the PS3 was a different story. At first I didn't catch it, but after awhile I realized there's a switch on the bottom (inside, next to the battery bay) that lets you flip between PC and PS3 modes. Once I flipped it to the PS3 mode, no problem.
With the diNovo's minimalist design, a noticeable innovation is the dual-purpose ClickPad. This round, thumb-sized ClickPad can be used as a touchpad to point, scroll and click, as well as a media remote and directional pad to navigate menus and make selections. When you're in the touchpad mode, the ClickPad is backlit in orange. If using the media remote mode, the directional buttons are backlit in green. The keyboard keys are always backlit in orange. I think the idea is to use the touch-pad mode to navigate a webpage on your desktop, and the directional controls are better for the linear menus.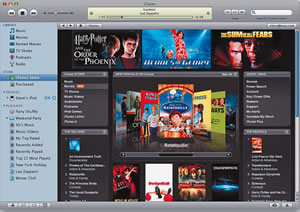 The diNovo's Bluetooth 2.0 capability gives you access up to 30 feet away, and the backlight feature will help you see its 61-key keyboard in the dark. The battery life on one charge will last you about a month, depending on how much you use it.
It's a great little keyboard, especially if you give presentations often with a computer. This isn't something you would want to use for everyday typing, but it certainly makes wireless web browsing, instant messaging or password entries convenient, especially on the PS3.
The diNovo Mini is available for $149.99 from Logitech (www.logitech.com) or Amazon (www.amazon.com).

Apple iTunes - Purchase New Movies Same Day As DVD Release
Earlier this month, Apple announced that new movie releases from major film studios and premier independent studios are available for purchase on the iTunes Store on the same day as their DVD release. I'm looking forward to this! Now I can load more movies on my Apple TV as soon as my faves come out. "We're thrilled to bring iTunes Store customers new films for purchase day-and-date with the DVD release," said Eddy Cue, Apple's vice president of iTunes. "We think movie fans will love being able to buy their favorites from major and independent studios."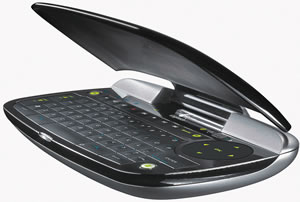 The new releases and catalog titles will be available from 20th Century Fox, The Walt Disney Studios, Warner Bros., Paramount Pictures, Universal Studios Home Entertainment, Sony Pictures Entertainment, Lionsgate, Image Entertainment and First Look Studios. Your purchased movies will be viewable on your iPod with video, iPhone, Mac, PC - or my favorite (as mentioned above) on my widescreen HDTV with Apple TV.
New iTunes releases that came out last week (concurrently with its DVD release) include American Gangster and The Diving Bell and the Butterfly. Other popular titles available for iTunes purchase are Juno, Cloverfield, I Am Legend, There Will Be Blood, Alvin and the Chipmunks and Walk Hard: The Dewey Cox Story.
The iTunes Store has a catalog of more than 6 million songs, 600 TV shows and more than 1,500 movies (including 200 in high definition). If you're not using iTunes already, download it at www.itunes.com
Most Recent Comment(s):