Clicking With A Smart Mouse

By
.(JavaScript must be enabled to view this email address)
October 21, 2005
|
Share

Del.icio.us
When I'm on my computer, I'm really picky about the mouse I'm using. The buttons have to be configured just right - otherwise I start to get annoyed with it. With the advancements of mice over the years, I've come to expect more and more out of a mouse, or for that matter, any product I use.
Well, Logitech recently announced its fall mouse lineup, which includes the MX610 Laser Cordless Mouse
(nicknamed "The World's First Smart Mouse").
The mouse is capable of two-way communication and knows if your computer is on or off. The MX610
saves power and automatically turns on when your computer turns on, sleeps when it sleeps and turns off when it powers down. It can sense if there's wireless interference and will automatically change channels to establish the most secure connection. There are also indicator lights that let you know when its (AA) batteries need to be changed, when you receive an e-mail or when an instant message comes in. The average battery life expectancy is about three months with regular use.
The wireless range of the mouse is 2.4 GHz, which allows you to use it up to 30 feet away. That's about five times stronger than a conventional wireless mouse, which usually has a 27 MHz range (approximately six feet away). The buttons on the mouse allow you to do all sorts of neat things such as control the volume of your computer, scroll both horizontally and vertically with its special Tilt Wheel Plus Zoom, or use the forward and back buttons for web browsing. The performance laser tracking lets you use the MX610
flawlessly on surfaces where normal optical mice normally will not work, plus it feels good ergonomically in your hand.
The long wireless range gives you flexibility if you're waiting for an instant message or e-mail to come in, and you don't want to sit there and stare at your computer screen. Just take the mouse with you to the couch or kitchen to get that snack. Keep in mind the e-mail function works with Microsoft Outlook and the instant messaging works with Windows Messenger, MSN Messenger and Yahoo! Instant Messenger after the Logitech SetPoint software is installed. After you install SetPoint, you can customize your mouse to your likings.
The MX610
would almost give Apple a run for its money with the Mighty Mouse, but unfortunately it's not fully compatible with a Mac. It can function with a Mac, but not all the features of the mouse are work with OSX. Hopefully there will be Mac compatible software available soon.
The Logitech MX610 Laser Cordless Mouse
comes with a five-year warranty and full product support. It is currently available for $59.99 at www.logitech.com.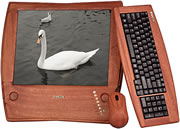 Stylish Swedish Relief. I honestly don't really care if my computer peripherals physically match the furniture around me. As long as they look decent and perform to my standards, I'm happy. For those with more discriminating taste in the way your peripherals look, Swedx is for you.
Swedx is a Swedish company that's on a mission to bring kinder, gentler-looking technology to your home or office. Plastic casing is out and wood is in. You can choose between three types of wood: sapele (rich, dark wood, similar to mahogany), beech (honey blonde with a satin finish) or ash (very light wood with a pronounced dark grain). The products are not just retrofitted or wooden bezel that covers an ordinary monitor. The electronics are built into the wood. It's kind of how televisions and radios were back in the day.
The LCD flatscreen televisions and computer monitors feature electronics by Samsung and Swedish styling by Swedx, drawing on Sweden's rich history of woodworking. They are available in various sizes from 15 to 32 inches. Also available are eye-pleasing keyboards and mice. The prices aren't as exorbitant as you might think. In fact, they're almost the same prices as normal plastic peripherals. The LCD monitors range from $387 to $521, the LCD or HDTV televisions from $434 to $3,577, the keyboards from $35 to $41, the mice (corded or wireless) $17 to $26, and the speakers are $83.
Swedx first introduced its product line in 2002, and seems to have hit it off with those who have become tired of plastic and want something stylish at their desks or environment-friendly folks. Swedx's products have been described as "more human" since each product is unique because of the use of real timber. Ergonomics is kept top-of-mind when manufacturing these products. They're perfect for the smallest of desks, giving you ample space to let your tired arms rest on the desk. In addition to the thin designs, the monitors all have a tilt mechanism, which allows perfect angle viewing. The bottom line is that Swedx is aiming to bring personal feelings, warm materials and natural colors into our technology world. I guess it's basically to help us feel less intimidated by technology (if you happen to be scared of it). Go wooden with Swedx at www.swedx.com.
.(JavaScript must be enabled to view this email address)
www.click-chick.com
Most Recent Comment(s):