Combining All Your Phone Numbers

By
.(JavaScript must be enabled to view this email address)
August 08, 2007
|
Share

Del.icio.us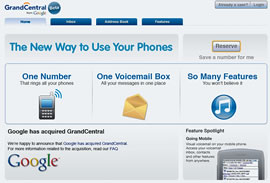 Sometimes I feel I could almost write a book with how many phone numbers I have to give out when filling out applications, etc. Wouldn't life be much simpler with just one phone number? That is possible with Google's latest acquisition, GrandCentral.
It has actually been around since late last year, but Google just bought GrandCentral last month, shortly after it was awarded one of the "Webware 100" awards for Communications by CNET Webware.
GrandCentral is an innovative service that integrates all of your existing phone numbers and voicemail boxes into one account that you can access from the web. Most you probably have at least two phone numbers (home/cell and work), perhaps more. Mainly this service gives you one phone number that you can set to ring all, some or none of your phones, based on who is calling. This way your phone number is tied to you and not your location. You can even switch a call from your cell phone to your desk phone and back again. You'll have one central voice mailbox so you can listen to your messages online or from any phone, and forward them to anybody.
There are too many other features to list, but here are a few highlights:
Call Screening: This is an especially a big concern for me and receiving tele-marketing calls.
Use this to totally block them or other people you don't want to talk to. You can even submit the number into a phone spam filter to completely block out the number as you would an e-mail. Also use the ListenIn feature to listen to a voicemail as it's being recorded, and push the * key if you want to pick up the call during the message.
Greetings: Have different greetings for individuals or certain groups of people (i.e. friends, work, family, etc.).
That way you can have a more professional sounding message for work and a laid back one for your friends/family.
Call Record: This lets you save all or parts of a call. Useful for phone my interviews and saving those classic moments between your friends on audio (with proper consent of course).
WebCall Button: Allow strangers to call you from your website/blog, such as e-Bay, while keeping your number private. This provides you an option to meet potential new people, for business or personal, without actually giving out your number.
Notifications: Choose to receive an e-mail or SMS message, or both, to be notified of a new voicemail message in your box.
For us in Hawaii, unfortunately no 808-numbers are available yet, but if you don't mind having a mainland area code for the moment, this is an excellent service to take advantage of.
Check out grandcentral.com to sign up for a number. At the moment it's a private beta service, as things are being moved to Google's network, but you'll be notified as soon as it's publicly available. Additionally, current GrandCentral customers fortunately have had no break in service.
Most Recent Comment(s):