Combining Instant Messaging

By
.(JavaScript must be enabled to view this email address)
December 30, 2005
|
Share

Del.icio.us

Gaim 1.5.0
I use many different instant messaging (IM) programs to talk to people, and sometimes it's very inconvenient to have them all open on my desktop at the same time.
I don't like to have my desktop cluttered with too many unnecessary open windows, and instant messaging programs have a tendency to do that. It would be nice to have a program to combine them all into one.
Well, thanks to my brother, I discovered a convenient and free program that actually combines them into one.
Gaim is a multi-platform instant messenger that supports most of the commonly used instant messaging programs. With GAIM, you can combine AOL Instant Messenger, Yahoo! Messenger, Google Talk, MSN Messenger, ICQ, Gadu-Gadu, Jabber, Lotus Sametime, Novell GroupWise, OpenNAP or Zephyr. Combining all these saves so much time while logging in and space on your desktop.
Since AOL Instant Messenger is probably the most popular IM program around, chances are you are familiar with the functions, etc. Gaim's look and functionality operate much like AOL's program, so it's fairly simple to master. The buddy window has the similar icons you're used to seeing on AOL, including the menus, chat and away functions.
Gaim supports many features on the various programs such as file transfer, away messages, typing notification and MSN window closing announcements.
It gives you Buddy Pounces, which notifies you with a message, sound or runs a program if a specific buddy goes away.
It will automatically sign online and return from idle status. Gaim also has plug-ins that consist of text replacement, a buddy ticker, extended message notification and icon notification if you're away from your computer.
Gaim is maintained by a group of programmers who work on it in their spare time. It was originally written to support Unix operating systems, but it now runs on a variety of platforms, including Microsoft Windows, Mac OSX, GNU/Linux, SkyOS, FreeBSD and Qtopia (Trolltech's PDA system).
If you're on a public computer that has a USB port available, you can download a portable copy of GAIM to a thumb drive, your iPod or any other portable media device. It is functional on any Windows computer and it works just as you would on your own computer, but with no installation required. The Gaim program just runs, worry-free, off the portable device.
The latest official release is the 1.5.0 version. Gain your own copy of GAIM at http://gaim.sourceforge.net/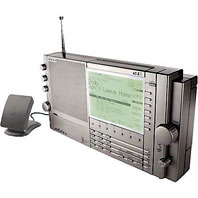 Eton E1 Universal Radio
Crossing Radio Signals.
I grew up in a very "radio-savvy" environment with my dad being a HAM radio enthusiast who was always trying to teach my brother and me Morse Code. I guess some of it actually stuck with me, since I guess I can say that I know a fair amount about the electromagnetic spectrum (frequency ranges, etc.). Well, this new radio that just came out really reminded me of the ever-reliability of radio waves no matter how far we've advanced in technology.
After about 10 years in development, the Eton E1 "Universal Radio" is the first radio that combines AM, FM, shortwave and XM Satellite Radio into a high-performance, full-sized portable unit. The frequency range covers 100-30,000 kHz and includes shortwave, medium wave AM broadcast band and long wave. In addition it covers 87-108 or 76-90 MHz FM broadcast band.
The Eton E1 is the topof-the-line in shortwave portables, a market that has been shrinking since the end of the Cold War and the growth of the Internet. The internal speaker has a fairly good sound, but it's not stereo. If you use the headphone jack, then you can listen to it in stereo. The E1 has six knobs, which keeps it simple to use, and have up to 1,700 station presets with a memory scan function. A stereo line-level input and output allows you to listen to other devices with the E1 or recording or routing the output to another device (such as a home stereo).
Operated by either an AC adapter or four D cell batteries, the E1 weighs four pounds, three ounces. It comes built-in with a 5.7-inch LCD display and has four levels of back-lighting that show you the complete status of your radio. It has a built-in telescopic antenna for the AM, shortwave and FM reception. There is also an additional antenna jack that allows you to attach an external antenna for the XM feature.
If you activate XM Satellite Radio (www.xmradio.com) you'll have to pay a $12.95 per month fee.
With it you'll receive commercial-free radio with more than 150 crystal-clear digital channels from across America.
The Eton E1 is quite pricey at around $500, but is well worth it if you are in the market for a high-end table radio that includes shortwave. It is available at Circuit City (www.circuitcity.com) or www.amazon.com
Most Recent Comment(s):