Confessions Of A Geek At Heart

By
.(JavaScript must be enabled to view this email address)
July 22, 2009
|
Share

Del.icio.us
For MidWeek's 25th anniversary, I was asked to share my MidWeek experience, so here it goes:
My MidWeek journey began many moons ago, in 2000, when I was hired on as a sales assistant. That job didn't last longer than a few months when MidWeek saw potential and moved me into the systems department as an information technology specialist. I guess they could tell I was a geek at heart, and believed I could do the job. That little move changed my life forever.
My Click Chick technology column began in 2005, and I had just left the company to pursue my Air Force career. I remember chuckling at the fact that I had my journalism degree all that time but never wrote for the newspaper until I left. This was yet another great opportunity ... the rest is history.
People often ask me how I come up with my story ideas, and how I keep thinking of new things to write about. The answer is simple. I have a passion for gadgets and following the latest and greatest in the tech world anyway, so it all comes naturally. I seem to always have something at the tip of my brain, and even in the rare instance that I don't, I receive tons of press releases every day from various companies, so my story pool never dries up. My goal with this column is to share my technology world with you, the readers.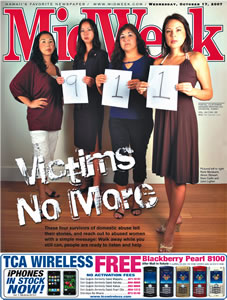 On the October 2007 cover
Having this column has opened up so many doors that I almost don't know where to begin. I've had the opportunity to meet many interesting people, attend various events and conferences, and occasionally I am recognized as the "Click Chick."
One of the more memorable individuals I was able to meet was Kaz Hirai (one of the top execs of Sony Corporation) at the time of the PlayStation 3 (PS3) launch in 2006. Shortly after that, thanks to Sony, I had the first PS3 in the state of Hawaii. I remember driving home with that thing in the trunk - it felt as if I had a million bucks in the back of my car! Keep in mind this was a few days before the mad rush when people were standing in long lines to buy a PS3.
Additionally, that PS3 gave me the opportunity in November 2006 to be on my first MidWeek cover. Kaz Hirai was the main focus on the cover, and I was shown from the back holding a PS3 controller. The second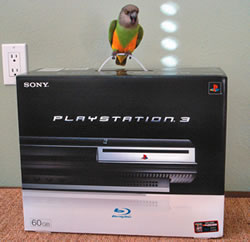 Duncan with first PS3 in the state
MidWeek cover I was on was published in October 2007, and it was extremely close to my heart. I was pictured with three fellow survivors of domestic violence, and we were given the opportunity to share our survival stories. After that story published, it was amazing how many supportive reader e-mails and verbal comments I received. Even to this day, I still receive comments about that story, and it published nearly two years ago!
Much mahalo for reading MidWeek and my column! I look forward to many more years of providing you with the latest and greatest from my world of technology.
Most Recent Comment(s):