Control A Drone With Your iPhone

By
.(JavaScript must be enabled to view this email address)
March 03, 2010
|
Share

Del.icio.us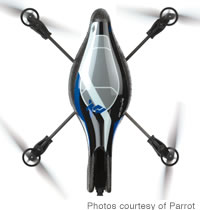 One of the most anticipated tech toys of this year is the Parrot's AR.Drone. It's a quadricopter with builtin cameras and Wi-Fi for video streaming, and best of all you control it with your iPhone or iPod touch.
The streaming video that comes through your iPhone/iPod touch enables you to control the AR.Drone as if you were sitting in the pilot's seat. The idea behind this is to mix a video game and the real world together. The drone is composed of a central cockpit surrounded by four propellers, each with its own engine. It generates its own Wi-Fi network, and when your iPhone/iPod touch connects to it, it turns into a true piloting station.
There are two cameras: One is under the drone's structure and connected to an inertial measurement unit, and the second one is at the front. This front camera is the one that broadcasts and streams to your iPhone/iPod touch. With the mix of these wide-angle and high-speed cameras, and the three axes accelerometer, three axes gyro and ultrasound sensor, piloting this thing is a breeze for even the youngest or non-tech-savvy person.
Controlling the AR.Drone from your iPhone/iPod touch lets you move forward and sideways to corner and change direction by using your phone's built-in accelerometer. In addition, your phone's touch pad has the command buttons for rise, down, rotate, move back and move forward.
The AR.Drone can be safely flown inside. For inside flights, a hull surrounds the propellers and protects the quadricopter if it hits something. For outside, a shaped hull reduces the area to the wind for better maneuverability. It also has the ability to do multi-player flights for aerial fights between two AR.Drones.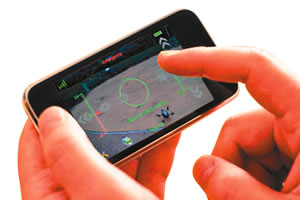 The AR.Drone is a dream toy for any kid (big kids included). I can't wait until this comes out, but there's no word on how much the AR.Drone will cost or when it will be available - supposedly sometime this year. For more information, visit parrot.com.

Click Chick's iPhone App of the Week: Siri Assistant
The Siri Assistant app turns your iPhone into a personal assistant by using voice recognition to accomplish everyday tasks such as buying movie tickets, making restaurant reservations or checking the status of a flight. Basically, you talk to your phone and it makes plans for you.
Siri is simple to use. Just launch it and speak into your iPhone's microphone. "Where is the closest Starbucks?" or "Table for two at Sam Choy's today at noon," and within seconds you'll receive your answer. This beats going to Web sites or having to launch separate apps to do your searching.
Siri partnered with the successful Dragon Dictation app creators for its capability to recognize your voice's context and intent to receive accurate question-and-answer results. Other launch services Siri is working with include OpenTable, MovieTickets.com, TaxiMagic, Citysearch, Yelp, Yahoo Local, GAYOT.com, Rotten Tomatoes, NYTimes.com, Flix Movie Reviews, BooRah, WeatherBug, AllMenus, LiveKick, Maponics, Flightstats, True Knowledge, Localeze, West World Media, Eventful, and more added every day. You can download Siri for free at the iTunes App Store. Sorry, this won't work with an iPod touch, and you need iPhone OS 3.0 or later.
Most Recent Comment(s):