Cool Techie Stocking Stuffers

By
.(JavaScript must be enabled to view this email address)
December 16, 2009
|
Share

Del.icio.us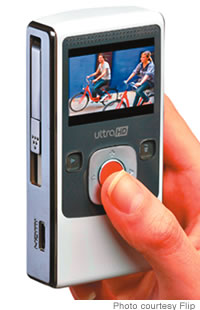 Christmas seems to have come upon me quickly this year, and I didn't even bother waking up early for any of the Black Friday sales. It was just easier and less time-consuming to do all my shopping online. If you still need to shop, here are a few cool last-minute stocking stuffers that should be able to make it to your front door before Christmas:
Flip UltraHD
You may remember the original Flip Mino compact video camera I wrote about last year. Since then, Flip has come out with many other cameras, my favorite being the Flip UltraHD. This is one of the cheapest portable HD cameras out there, perfect to capture your holiday moments. The video quality is good, and much better than the iPod nano's quality. As with other Flip cameras, the UltraHD is extremely user-friendly. Find it online for $150 at Amazon.com.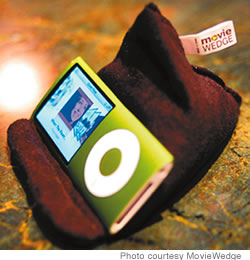 MovieWedge
A practical, inexpensive stocking stuffer, the MovieWedge is a $10 media stand for your iPhone, iPod touch, PSP or just about any one of your hand-sized devices. Constructed out of micro-suede (basically a mini pillow), it's designed to prop up your device on just about any surface without sliding around. With its material, MovieWedge also can double as a fingerprint cleaner, and it's perfect to use on an airplane tray or on your lap while you're traveling. Its small size and easel-like front edge make it easy to prop your device at different angles.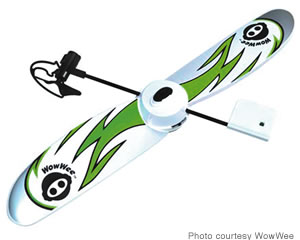 WowWee's Lightstar
For the robot lover in your life, the WowWee FlyTech Lightstar is the perfect flying gadget to pass the time during New Year's Eve or whenever you're bored in general. It has a propulsion-based design and built-in LED lights to create a cool glow and halo-effect when it flies. These lights create interesting light patterns that are just as cool as fireworks (and won't cause any fires!). Unfortunately you can't steer the chopper, but you can vary the acceleration and bounce it off walls to compensate. At first glance, and for the $20 pricetag, you would-n't expect much by looking at it, but it's quite a delight to play with. It comes in blue, orange or green. Find one at your nearest Target, Sears, Kmart, Radio Shack or Toys 'R' Us (call store(s) first for availability) or online at Amazon.com.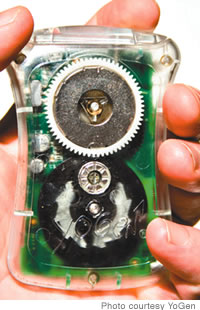 YoGen Charger
Introduced earlier this year, this pocket-sized green mobile charger only recently became available for purchase this month. YoGen is a compact, easy to use and uniquely efficient hand-powered charger to use with small electronic devices such as your cell phone (including iPhone), mp3 player, game player or a digital camera.
You might think this is another solar charger, but it's not. YoGen solely relies on your hand's power from repeatedly pulling a ripcord (similar to starting a lawnmower). Its alternator interfaces with an energy-efficient electronic stabilizer and transmission to transfer linear kinetic energy through a patch cord from the unit to your favorite gadget. It gives an electrical output through its built-in mini USB. There's an LED indicator that shows the charging for your electronic device its connected to. The maximum power output is typically five watts (but possibly up to six watts if you're lucky).
This is a perfect gift for your on-the-go gadget junkie. Purchase it for $40 online at www.yogenstore.com (available in black and clear).
Most Recent Comment(s):