Creating Your Own Photo Books

By
.(JavaScript must be enabled to view this email address)
January 31, 2007
|
Share

Del.icio.us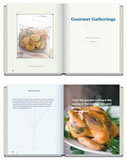 I've been meaning to compile my wedding pictures in some sort of album or book ever since my husband and I were married ... um, two years ago. It's not that I've been procrastinating or anything. It's just that photo books you can make are expensive. I've been waiting around to see if there are any specials or lower prices to be offered for the amount I need to be printed. Considering they are our wedding pictures, I want the book to be perfect, but also affordable.
I didn't think about my wedding pictures and future photo book of them until my recent discovery at MacWorld. My patience has paid off - at the expo I found a company called Blurb. It's a company and a community that believes passionately in the joy of books - reading, making, sharing and selling them. You take your digital content - photos, artwork, recipes, blogs, stories or anything you can think of - and print it in a professional-quality book. These books are very attractive and will not cost you an arm and a leg.
To get started you download the free Blurb BookSmart software to your computer from www.blurb.com. It works on Mac (OS X 10.4.5 or later) or PC (Windows 2000 or XP), so no worries about platform compatibility. Once it's installed, you select your images, or whatever content you're adding in, and go throughout your book and lay it out page by page. It may sound painful, but it's really not. I did it with my wedding photos, and even with the amount of pictures/pages I had, it took me about three hours to lay out the whole book. My hundreds of pictures now occupy 248 pages of a (8-by-10) hardcover book that cost me about $60. Not bad considering other services, with the same caliber of quality, wanted to charge an average of $130 for almost the exact same thing.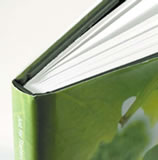 Blurb puts a professional press and global distribution at your hands. The books truly look like something you would find in a bookstore, yet you can proudly say that you made it yourself. The softcover books have a durable binding with four-color 12 point covers with an overlaminate. The hard-covers are made with a durable library binding and 8 point black linen hardcover cases with laminated four-color dust jackets. The paper is 80#-coated, semi-matte, commercial-quality that photos print well on. Current sizes available are Portrait (10-by-8) and Landscape (8-by-10). Sizes to and Landscape (8-by-10). Sizes to be offered soon will be Modern (7-by-7) and Novel (9-by-6).
There is a variety of book genres from which to choose: cookbook, poetry, blog, portfolio, photo book (this is what I ordered), text and pictures, text only, baby book, dog book or cat book. Each has its own unique layout look with your customization. If you're really talented with graphics, you can even make your own layout to further personalize your book. Additionally, if you have a Flickr account, you can easily upload your pictures from there (as opposed to taking up space on your hard drive).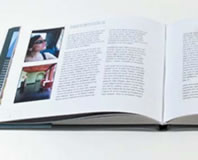 Personally, Blurb is most useful to me for making photo books, but for people who are looking for other opportunities to make their own "real" book, this is a great start. A perfect example is if you love to cook and are willing to share your recipes, you can use the cookbook layout and share your recipes with your book. Order anywhere from one for yourself to hundreds to sell and profit from (bulk discounts begin at 25 units). Figure out your own price, keep the profit and market/sell your books for free in the Blurb Bookstore. The books are delivered in an average of seven to 10 business days. In case you're wondering, the content in your book belongs to you once it's published, so feel free to blog it or publish it elsewhere without any consequences.
If you decide to Blurb your own book, prices depend on your page count (20-440 pages) and whether the book is soft-or hardcover. The softcovers start at $18.95 and the hard-covers at $29.95. Use the coupon code mwjan07 (limit one per person, expires Feb. 28, 2007) and it will apply $8.95 to your shipping charge. Check out the website (mentioned above) for more information.
Most Recent Comment(s):