Cute And Cuddly Robot Therapy

By
.(JavaScript must be enabled to view this email address)
April 30, 2008
|
Share

Del.icio.us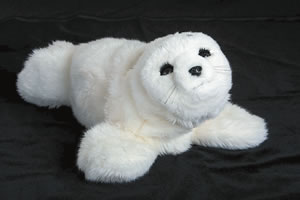 Paro is an extremely cute psychological enrichment robot that mirrors a baby harp seal. It may be adorable, but it's not a toy. The name stems from "Personal Robot," and the "Pa" is an "explosive sound" that is easy to remember.
Add the two together and it equals Paro. Much different than any robot I've ever seen, Paro has been in development for several years and targeted at folks who are unable to take care of a real animal, or who live in places where no pets are allowed.
In early April, Paro Robots U.S. Inc. was formed and will handle Paro's sales and distribution in the United States.
"I view Paro as the embodiment of the best technology that has been developed over the past 30 years integrated into a ground-breaking robotic device that has as its sole purpose the task of comforting human beings," said Walter Weisel, chairman and CEO of Paro Robots, U.S. Inc.
"I could not be more privileged to have been asked to lead Paro Robots U.S. and bring comfort and therapeutic companionship to the health-care community."
Paro is covered in pure white fur and features a hard inner skeleton under which are dual processors that control its proprietary software behavior generation and voice-recognition systems, and an array of sensors that work together to allow Paro to respond to you in a lifelike manner. It can "see," "hear" and move proactively and reactively. This sophisticated technology is nicely concealed in the form of this treasured pet.
Considered to be a "mental commitment" robot, Paro is built to interact with humans and make the patient feel emotionally attached. These robots trigger impressions such as the cuteness factor or comfort.
Mental commitment robots are designed to provide three effects: psychological (relaxation and motivation), physiological (improvement in vital signs) and social effects (spawning communication between patients and caregivers). These concepts have been proven with animal therapy. Animals often can relieve mental stress and allow you to relax.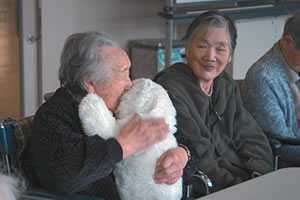 To give the real animal behaviors, Paro has five sensor types: light, tactile, posture, audio and temperature. It recognizes light and dark with the light sensor, touch/strokes with the tactile sensor and being held with the posture sensor. Paro also can recognize the direction of voice and words (i.e. its name, greeting or praise) with the audio sensor. It shows cognitive behavior and can learn to behave the way the user prefers and responds to the name you call it. If you stroke it every time you see it, it'll remember your previous action and try to repeat that action to be stroked. If you hit it, it'll remember that, too, and won't do whatever it did to make you hit it.
The fur on Paro is hygienic with an anti-bacterial, soil-resistant finish and hair-loss prevention to enable long-term use. It also is equipped with an electromagnetic shield so it can be used with a pacemaker. The reliability and durability has been tested through rigorous experiments, drop tests and stroking tests (more than 100,000 times).
Unfortunately, I didn't have the opportunity to play with a Paro myself, but after watching some of the videos online, I can see that it responds as if it were a real animal. It moves its head and flippers, and makes baby harp seal sounds. it expresses surprise or happiness as it blinks its eyes. Each Paro is hand-made, so each has its own individual facial expression.
There are currently about 1,000 Paros with clinically documented results around the world used to mitigate the debilitating effects of Alzheimer's disease, other forms of dementia and emotional complications associated with severe injury or illness. None is used in Hawaii yet - at the moment, they are mostly in Japan and Europe.
For more information or to see videos of Paro, check out http://paro.jp/english. The cost is approximately $5,000 - since these are all hand-made, they are difficult to produce quickly.
Most Recent Comment(s):