Cutting-edge Gadgets Galore At AVCO Show

By
.(JavaScript must be enabled to view this email address)
March 24, 2010
|
Share

Del.icio.us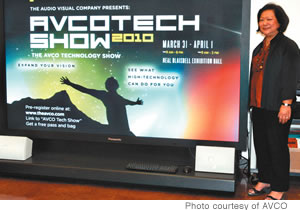 We rarely have tech shows here in Hawaii, but next week (March 31-April 1) The Audio Visual Company is scheduled to have its first tech show at Neal Blaisdell Exhibition Hall. AVCO will feature cutting-edge gadgets such as Panasonic's larger-than-life 103-inch plasma screen (pictured here), interactive boards, video conferencing systems, multi-media solutions and more.
"There is something for everyone at the AVCO Tech Show," says AVCO president Thomas Lee. "Our theme is 'Collaborative Communication.'By bringing together multiple manufacturers, they can showcase products and technology that will support customers' communications capabilities."
More than 100 manufacturers will show off their latest gadgets. Panasonic, Extron Electronics and SMART Technologies have guest speakers who offer free special seminars and presentations. Panasonic sales representative Thomas James will delve into a wide range of products and technologies that are used for health, security, entertainment, education and communication with his presentation titled, "Panasonic's Ideas' For Life."
In addition, Extron Electronics' Michael Bax will present, "Simplified AV Control Solutions" and "Implementing Cost Effective AV Technology in Classrooms," and SMART Technologies' James Roe will cover all aspects of key collaboration between U.S. Military Command in C4 ISR, training and communication along with the impact SMART Capabilities has in the military/DHS theater.
Featured exhibiting companies include 3M, Canon USA, Cisco, ClearOne, Fujifilm Hawaii, Mitsubishi, Motorola, Servco Toyota and Tandberg, to name a few. While you're there, enter to win one of two 42-inch high definition televisions. Also, a 3M Super Close Projection System along with hourly door prizes are set to be raffled off (must be present to win). For more information or to register for your free admission, visit www.theavco.com.

Click Chick's iPhone App of the Week: Street Fighter IV
Capcom's Street Fighter IV for the iPhone/iPod touch is a breakthrough for the future of mobile games, especially if you're a Street Fighter fan. The game was rebuilt from the ground up to take full advantage of the iPhone platform while still remaining true to the legendary series' high-action arcade roots.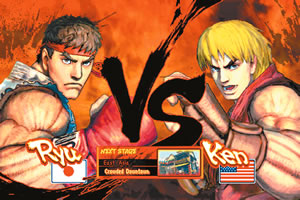 You'll see eight classic characters: Ryu, Chun Li, Able, Blanka, M. Bison, Dhalsim, Guile and Ken. Veteran players will instantly recognize the robust move sets including the Unique Attacks, Special Moves, Focus Attacks, Super Combos and Ultra Combos. Newcomers might want to start off in the "Dojo" mode, which gives you good practice ranging from simple to advanced lessons.
Last but not least, Street Fighter IV isn't complete without being able to play head-to-head in the Versus mode. You can do this via Bluetooth with another player who has the Street Fighter IV game app on their iPhone - this feature makes the game ultra-fun!
The controls in Street Fighter IV are managed using a unique "Visual Pad" system created specifically for the iPhone. By activating "SP Move Assist," you can trigger your char-acter's Special Moves with a tap of a button and a directional input. Hardcore players can disable the feature and enter the complete command manually, if you so choose. Additionally, you can fully customize the interface by repositioning controls anywhere on the screen as well as setting the level of transparency.
Find this at the iTunes App Store for $9.99. It's a little pricey for an app, but well worth it.
Most Recent Comment(s):