Cutting Your Electrical Cord

By
.(JavaScript must be enabled to view this email address)
April 09, 2008
|
Share

Del.icio.us

Wouldn't it be nice to not have to deal with a pile of electrical wire spaghetti for your gadgets? This very well could be the future of power with Powercast's technology that broadcasts electricity through the air. Originally seen at last year's 2007 Consumer Electronics Show (CES) and winner of CNET's Best of Show Award in Emerging Technology, Powercast was present again at this year's CES with updated information and its breakthrough wireless power demonstrations.
"Last year we demonstrated power transmission through several feet of air. This year we can transfer higher power - at close range - to mainstream consumer devices," says Powercast CEO John Shearer. "People consider wires and chargers clumsy and annoying. We have solutions that manufacturers can apply in creating true wire-free experiences."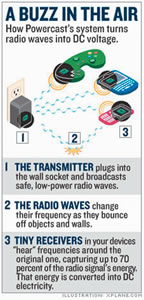 Powercast's technology works over particular frequencies and wavelengths of modified radio waves as a means of transmitting power wirelessly. It works as a Wi-FI router would - one central power source plugged into a wall outlet, no cables. The power source transmits power wire-lessly to your gadget. The transmitter module is called the PowercasterTM and the receiver module is called the PowerharvesterTM.
Compare it to an AM/FM radio - the radio station broadcasts its programs to everyone in range of the tower. The Wireless Power PlatformTM works the same way. There are both transmitters and receivers, and Powercast has optimized each side to maximize the power transfers.
"We launched our first product in 2007, in partnership with Philips. I'm proud to say we introduced the first FCC-compliant consumer product that powers LEDs wirelessly," adds Shearer. "Our first shipment alone included more than 50,000 PowerharvesterTM modules. And we're working hard to build new partnerships with other industry leaders - companies that share our vision of a wire-free world and that want to innovate by integrating our technology with their products."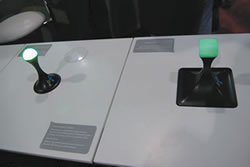 At the moment, you don't see Powercast as a packaged product you can buy off the shelf, and it's currently targeted at smaller, easily supported consumer products. Devices that typically require high power levels (i.e. a TV, since it constantly needs to be plugged in) are not being pursued. Basically anything that uses a small battery (AAA, AA or coin cell batteries) can be placed near a transmitter and is a viable candidate for conversion. Mp3 players, phones/PDAs, remote controls, toys, watches, wireless headsets, lighting, flashlights and computer peripherals are the types of devices you'll most likely see integrated with Powercast's technology. In the commercial world, we could see this in building automation/security, security tags or active RFID tracking. Additionally, Powercast technologies can power aerospace (i.e. sensors) and medical devices (i.e. hearing aids or health monitoring equipment).
It'll be interesting to see what this wireless power will have to offer in the near future. In years to come, this technology could possibly even power an entire city. For more information and updates on Powercast's technology, visit the website at www.powercastco.com
Most Recent Comment(s):