Defending Emmeria with Ace Combat 6

By
.(JavaScript must be enabled to view this email address)
November 09, 2007
|
Share

Del.icio.us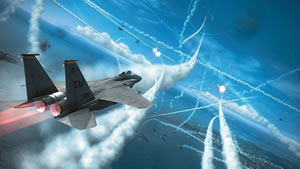 Call me a dork - I love airplanes and video games. Putting the two together equals Ace Combat, one of my favorite video game series. About two weeks ago Namco Bandai released Ace Combat 6: Fires of Liberation, the latest in the string. Since a month before the game's release, I've been using a beautiful game screenshot of three F-16s over snow-capped mountains at sunset as my desktop background at work.
It looks so realistic that several people stopped to do a double take at my screen and asked if it was a real picture. Upon telling them that it's a screenshot from Ace Combat 6, all had the same reaction: a closer look at my monitor, along with a "wow."
When I first turned on the game and saw the opening screen, I thought it was a nice touch that the tops of the planes shown were painted orange and black with a pumpkin design and said "Happy Halloween."Following that, watching the opening movie portion I immediately noticed the graphics are amazing as real-world scenery. Yet, while you're flying around, the game is arcade enough that you know you're playing a video game.
The storyline takes place in a fictional land called the Republic of Emmeria (your home), after its capitol was invaded by the Federal Republic of Estovakia (inspired by the USSR). The dramatic stories that take place as you go through the single-player campaign throw me off - sometimes they just seem out of place to the mission you're accomplishing.
The early missions run a bit slow and seem to last forever, but keep going and they become more exciting. If you're looking for a challenge, go ahead and start off the game on the "Hard"difficulty level. Or if you're more of a slacker, the "Easy" level is for you. Especially with the superweapons, you'll be floating on air, literally. My favorite is the weapon that can acquire and fire at up to four targets simultaneously. It's the lazy woman's way of shooting down an aircraft (not that I used the "Easy" level).
For the first time in Ace Combat history, you can take your plane online with Xbox Live and compete against others with Battle Royale and Team Battle mode (up to 16 players). Or team up with your friends in Cooperative mode. You can choose play ranked or unranked (if you're just practicing). A nice addition is the Allied Support System, in which you can call in for reinforcements to help you. In the single-player campaign mode, you can purchase and choose from the world's most advanced aircraft to upgrade your hangar.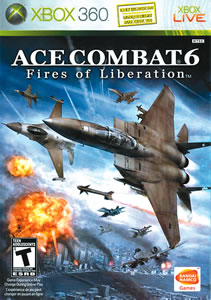 Overall, I love the game! If I had to complain about something, it would be that there are not as many missions or aircraft as with previous Ace Combat titles. However, the online play makes up for that since the gameplay always varies when you're up against others online. As long as you're an airplane fan, you'll still want to play this over and over again in both modes since you can earn achievement points, medals, aircraft and special weapons to put on your record.
Ace Combat 6 is rated T For Teen and is available exclusively for the Xbox 360. You can find it at your nearest GameStop (www.gamestop.com), CompUSA (www.compusa.com) or Best Buy (www.bestbuy.com) for $59.99. The Limited Edition Flightstick Bundle is a bit more with its $149.99 pricetag, but includes the Ace Edge flightstick and throttle along with the game. Log onto www.acecombatsix.com for more information about the game, and have fun comparing real aircraft pictures against Ace Combat 6 screenshots.
Most Recent Comment(s):