Discover The Fun Of Geocaching

By
.(JavaScript must be enabled to view this email address)
April 08, 2009
|
Share

Del.icio.us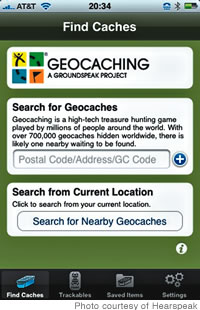 I was hiking with some friends a couple weekends ago when we ran into a group toting an ammo box. My friend asked them what it was for, and the man holding it said it was to replace a geocache (pronounced geo-cash) that went missing. Since my friend saw the lost ammo box on the trail months ago, we chitchatted with the group for a couple of minutes about the misplaced box, and went on our way.
After the folks were out of earshot, my friend asked me what geocaching was, and if there was cash in that box. I thought geocaching was fairly popular, but that's when I realized not everyone knows what it is.
First, know that a geocache has nothing to do with money - it's not that kind of cash. It's high-tech treasure hunting with a GPS device where you can find hidden treasures in containers (such as that ammo box, but could also be as small as a film canister) using specific GPS coordinates. You, as a geocacher hiding a cache, can place it anywhere in the world (including underwater, in between rocks, in a tree or just about anywhere you can think of to make it challenging). You just need to accurately log its coordinates with a GPS device.
"My favorite here in Hawaii is the LOST cache," says veteran geocacher Walan Chang. "Since I watch LOST all the time, I really appreciate the beautiful view, and the sense of where the cast was while they were shooting at that location.
"The most difficult cache my husband Randy Phares and I have attempted was the Green Island Lighthouse in Taiwan. It's a two-parter, and since we were unable to search for the first part due to heavy traffic, we had to climb over rocks, bushes, and dig through trees, sand and rocks. Our only hint was that it was at eye level on a wall, but we eventually found it after digging through different rocks on the wall," Chang adds with a laugh.
When you head out on your treasure hunt, it's probably a good idea to take a pen and paper with you so you can take some notes about your experiences. Once you find your cache, sign the logbook, and then you can take the item inside the container as long as you trade it for something of equal or greater value. Note: There are keiki-friendly caches too, so when you do those, make sure to bring a little toy to trade.
When you're finished with your find, be courteous and put the cache back exactly how you found it, branches covering it, etc. Then, when you get home, you can log your experience on www.geocaching.com and the cache owner will be happily notified of your find/log.
Trackable items are loads of fun. It's interesting to see where they end up. For more information and to begin your own geo-caching adventures, create a free account at geocaching.com and enter in a ZIP code to find caches near you.

Click Chick's iPhone App of the Week: Groundspeak's Geocaching
In addition to geocaching.com, Groundspeak's Geocaching iPhone App allows you to use your iPhone to play in the world of high-tech treasure hunting without a devoted GPS device.
Although it's probably preferable to use a dedicated GPS device, the Geocaching app gives your iPhone direct access to the Geocaching.com database that has 700,000-plus geo-caches worldwide. It allows you to search for nearby caches, read cache descriptions and hints, log finds and post your notes from the field. You also can save your geocache listings for quick retrieval, look up trackable items and filter out your previously found caches.
Geocaching app takes advantage of the iPhone 3G's internal GPS chip for navigation a user-friendly interface with a simulated compass arrow. The app also allows you to save geocache listings for quick retrieval, look up trackable items and filter out geocaches you already found.
Download the Geocaching app for $9.99 at the iTunes App Store, or visit http://www.geocaching.com/iphone for more information. It's a little pricey for an iPhone app, but worth it if you're up for the challenge.
Most Recent Comment(s):