Disney In A Flash And XShot Pix

By
.(JavaScript must be enabled to view this email address)
November 21, 2007
|
Share

Del.icio.us
When I first saw Lexar's new line of Disney SD cards/USB Flash drives, I immediately thought of my friend Joy. She's the most dedicated Disney freak I know. She has the theme to High School Musical 2 on her phone, goes to Disneyland or Disney World whenever she can, and has Disney paraphernalia all over her desk.
For people like her, Lexar and Disney joined together to create the my*style product line. It includes wearable USB Flash drives, regular Flash drives, and SD cards that showcase High School Musical, Hannah Montana, Pirates of the Caribbean 2 and classic Mickey, 512MB and 1GB capacities.
I realize these not very large compared to the biggest ones out there, but it will sure make the Disney fanatic in your life happy. Find these for $24.99 (512MB) or $34.99 (1GB) at www.lexar.com/disney
XShot Extends Camera Options. Now that you're all squared away with a cute little Disney memory card for your camera, you can think about how to do the important part - taking the pictures.
Instead of trying to find a good spot to put your camera down, set the timer and take a self group shot, the XShot gives you on-the-go options, and literally extends the way you shoot your photos and videos.
The XShot is a telescopic rod that attaches to your compact digital camera or hand-held video camera. You connect your camera to the built-in thumb screw and adjust it to your desired angle. Set the self-timer on your camera, extend the XShot, aim and shoot. It gives you more than three feet of reach, which is enough to fit up to five people in your picture. The full extension length is 37 inches, and is only nine inches when closed, easily fitting into one of my bigger purses or in my back pocket. It only weighs 3.9 ounces, is made of stainless steel and has a non-slip rubber grip. Because of its compact size, it is perfect for the traveler or any avid on-the-go photographer.
I have tons of pictures with my friends and family that were taken with my arm extended. XShot will make that a thing of the past.
"People no longer have to rely on arm extensions or passing strangers to take their pictures," says Michael Daoud, co-founder of XShot, LLC. "Photographers and videographers can now be a part of the memory and get a great image without a tripod assembly."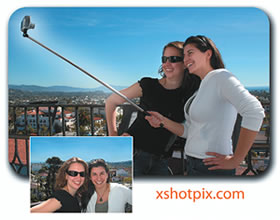 The idea for the XShot was born when Daoud was vacationing in Paris. He tried to take a picture of himself and his wife in front of the Louvre Museum with his arm extended. Only a small portion of the Louvre was actually in the photo, and he realized if his arm was a little longer he could take better pictures. Here the idea of the telescopic arm popped into his head, and the XShot was born.
Log onto www.xshotpix.com and find the XShot for $24.95.
Most Recent Comment(s):