Do It In A Jiffy With Gliffy

By
.(JavaScript must be enabled to view this email address)
July 19, 2006
|
Share

Del.icio.us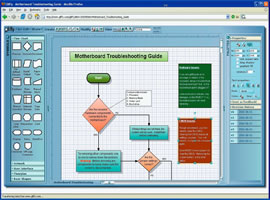 Gliffy
For some reason, I'm always tasked with making flowcharts, diagrams or any other similar seemingly complicated tasks to accomplish on the computer. I'm the unspoken designated go-to person for this kind of stuff no matter where I go, but I'm now hoping to pass this special torch along to others with Gliffy.
Gliffy is a program that makes creating flowcharts, drawings, floor plans or any diagram very simple to do for just about anyone. Its interface is extremely user-friendly and it runs fast - almost real time. If you are familiar with Microsoft Office's Visio, Gliffy is somewhat similar to that, without you having to spending hundreds of dollars. Gliffy runs completely in your web browser so you don't have to worry about compatibility issues if you're jumping from a PC to a Mac, or vice versa.
If you're thinking about remodeling your house, creating your own floor plan, complete with furniture, wall colors, floor patterns and upholstery is a breeze. Also calculate the distances between objects using a (removable) grid for proper measurements. If you're tasked with showing a complicated developmental process on paper, Gliffy is perfect for that too. You can also make technical drawings, computer network diagrams (which I have to do frequently), web-page layouts or even a golf course map. All these are made possible by clicking, dragging and manipulating pre-made shapes onto your document area.
If you're working with multiple people on your projects, around the world or as close as across cubicles, there are two ways you can enable document sharing. Collaboration enables others to see and edit your work by entering an e-mail address.
Publishing creates a read-only image of your diagram that you can embed in a blog or your web software.
Unfortunately you can't perform real-time group editing, but since it does track all the changes, it kind of works as a wiki.
Gliffy keeps a live JPEG of your files in its servers, so your blog will always show the latest version. Because Gliffy is a web application, you don't have to worry about losing your work.
Your documents are stored securely on Gliffy's servers, saving you time and sparing you from a headache.
Gliffy Inc. is a next-generation rich Internet application company based in San Francisco. Its mission is to provide platform independent Internet applications with rich user interfaces for collaboration.
For those of you who are interested in using this for work, there will soon be a business subscription version with premium features available (no pricing yet).
It is still in an early beta stage, but you can sign up with Gliffy for free today at http://www.gliffy.com
Most Recent Comment(s):