Domestic Violence Awareness

By
.(JavaScript must be enabled to view this email address)
October 22, 2008
|
Share

Del.icio.us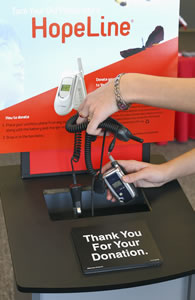 Many of you are aware of my passion for fighting domestic violence because of my personal survival story.
Well, here we are again in October, Domestic Violence Awareness Month (yes, we share the month with breast cancer awareness). I urge you to wear purple (symbolizing the color of a bruise) for your support. I wish tech companies would come out with some good purple gadgets that would help fight domestic violence (as breast cancer causes have pink gadgets).
As a start toward fully purple toys someday, Verizon Wireless' HopeLine Program expects to provide more than 140 wireless phones this year to Hawaii's domestic violence organizations to support their victims. In total, more than 400,000 minutes of service will be provided to communicate with victims' families, friends and shelter support staff to help them rebuild their lives. More than 22,000 phones will be donated nationwide, along with 66 million minutes of airtime.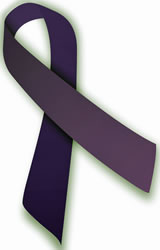 "HopeLine is Verizon Wireless' commitment to end domestic violence through free cell phones and airtime for victims; cash grants for shelters and greater understanding to help us all take appropriate action," says Mark Yamauchi, director of Hawaii sales for Verizon Wireless. "HopeLine is an easy way for anyone to help fight domestic violence, and at the same time keep old phones out of landfills by donating used cell phones from any carrier to a Verizon Wireless store. The HopeLine program has provided 80,000 wireless phones, 240 million minutes of airtime, plus $5.6 million in cash grants to shelters and nonprofit organizations to help victims of domestic violence."
In 2008, Verizon Wireless donated wireless phones with prepaid service to the Domestic Violence Action Center, Women Helping Women, Turning Point For Families, NA LOIO Immigrant Rights & Public Interests Legal Center, and Parents and Children Together. Since 2001 (the year I escaped from my abuser), Hopeline has collected more than 5.3 million phones and awarded more than $5.6 million in cash grants to agencies and organizations across the country.

Show your support and donate your phones to Hopeline. Wireless phone donations are accepted at all Verizon Wireless stores in Hawaii (and across the nation). If you are able to donate, make sure your service is discontinued and any personal data is erased. Your old phone will then be refurbished and resold for a practical reuse, or disposed of in an environmentally sound manner. Visit www.verizonwireless.com/hopeline for more information.

Verizon Wireless' Month-To-Month Agreement
In addition to helping the fight against domestic violence, Verizon Wireless announced last month it is now offering month-to-month agreements instead of a full contract. This feature gives you the freedom to purchase a new device at full retail price or use your own CDMA device without the commitment of a one- or two-year contract. You can terminate your agreement at the end of any month without paying an early termination fee.
This month-to-month agreement is available on all nationwide voice and data plans for new and current contract customers. You current contract customers are obligated to fulfill the terms of your contract before you can move to a month-to-month agreement.
Visit your nearest Verizon Wireless Store or www.verizonwireless.com (or call 1-800-2JOIN IN).
Most Recent Comment(s):