Downloading From iPods To TVs

By
.(JavaScript must be enabled to view this email address)
October 04, 2006
|
Share

Del.icio.us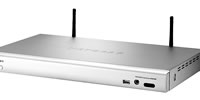 EVA700 NETGEAR
In case you haven't already guessed, I'm the type of person who will download television shows, music videos or movies from the Internet often (usually via iTunes). I end up watching these on my laptop or video iPod, but it would be really cool if I could watch these on the new Widescreen Plasma High Definition TV we just "had" to purchase for our bare living room wall. My easy solution is here with Netgear's latest EVA700 NETGEAR Digital Entertainer. I'll never forget its name since it shares a named with one of my dearest friends, Eva.
EVA700 connects your computer world to your TV world. In other words, it brings the digital content on your PC and what you stream from the Internet to your TV. Using Intel's new Viiv technology, it allows you to enjoy your digital videos, photos and music on your TV. Intel Viiv is Intel's new brand for in-home entertainment PCs designed to transform how you, manage, share and enjoy the ever-growing assortment of movies, TV shows, music and games out there. The EVA700 allows you to seamlessly access all your digital media files from your computer to view and listen to on your TV while you're nice and relaxed, lounging on your couch, instead of sitting stiff in front of your computer.
You can use the wired Ethernet port on the EVA700 to connect to your home's network, or go wireless. NETGEAR recommends using their Powerline HD Ethernet Adapter Kit (HDXB101) for maximum streaming speeds across your house - you may remember me writing about that back in July. The device's content can be accessed on a Microsoft Windows Media Center PC through Windows Media Connect, and other universal plug-and-play media servers, such as TwonkyVision.
The EVA700 also works flawlessly with the NETGEAR Storage Central (SC101) device to further your storage capability as network storage. Furthermore, you can play files saved on just about any USB device, including your iPod, thumb drive, digital camera or USB disk by connecting it to the front USB of your EVA700. My favorite of these is of course the iPod since I have so many videos and TV shows already stored on there.
You don't have to feel limited anymore with the EVA700, it gives you so much flexibility with your media. "Where people store their files and access the Internet shouldn't limit where, when or how they enjoy their digital entertainment," says Vivek Pathela, NETGEAR's vice president of product marketing.
"Previously you used your PC, but now you can also enjoy the same videos, photos and music on your TV, in the comfort of your family room. We've dedicated considerable effort to ensure options for high-quality video streaming for hours of uninterrupted video playback, so digital media and services can be delivered from the PC to home theaters across multiple rooms."
I've heard some buzzings that Apple might release something similar to this soon, but in the meantime the EVA700 NET-GEAR Digital Entertainer comes with a one-year warranty, 24/7 technical support, and the MSRP is $269. The package includes the device, an Infrared (IR) remote control (two AA batteries included), power cable, Ethernet cable, RCA stereo-audio/composite-video cable, the resource CD and the installation guide. Sorry to you Mac folks without a Mac Pro or MacBook Pro ... it will only work with Windows XP. Find your own EVA700 at the nearest CompUSA (www.compusa.com) or Best Buy (www.bestbuy.com).
Most Recent Comment(s):