Dyson's Touch-free Hand Dryer

By
.(JavaScript must be enabled to view this email address)
May 07, 2008
|
Share

Del.icio.us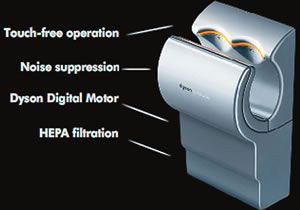 I'm extremely picky when I wash my hands, especially if I'm using a public restroom. I go through a whole systematic routine without even thinking: Grab a paper towel (to turn off the faucet afterwards), squirt the soap in my hands, lather for exactly 15 seconds while making sure I clean out the fingernails too and, most importantly, make sure to not touch the faucet when I'm done. I absolutely refuse to touch it. This is just one of the things that cause my friends to call me "Miss Monk" (named after the obsessive-compulsive detective Mr. Monk).
Apparently my thinking matches the results of a recent national consumer survey that confirmed the reality and perception of the unsanitary condition of public restrooms. According to this survey, more than 90 percent of respondents have performed "bathroom gymnastics" to avoid their skin making any contact with surfaces in a public restroom. For example, more than a third (40 percent) of the respondents use their elbow to turn on a hand dryer. I understand completely, and for good reason: The National Sanitation Foundation (NSF) found two types of bacteria, staphylococcus aureus and coliform, on 10 percent of the paper towel dispensers and other surfaces while doing the study.
With this in mind, last year Dyson (my favorite vacuum cleaner maker) launched the Airblade, the fastest, most hygienic hand dryer available to man. I know it's just a hand dryer, but I think it's cool! My husband saw the Airblade in a convention center restroom while we were at the Consumer Electronics Show (CES) this year. Knowing how I am, and realizing how much I would love it, he came running out of the restroom to tell me about it. As much as I wanted to see it, I obviously I couldn't go waltzing into the men's bathroom to try it out.
Plus, there aren't any installed here in Hawaii (as far as I know), so the folks at Dyson were nice enough to send me one to check out.
The setup was difficult, but it's not meant to be a home product. This is definitely more for your business' bathroom or office kitchen. Worth it for a public bathroom, it uses up to 80 percent less energy than a traditional hand
dryer, and dries your hands in 12 seconds (compared to other dryers at 22 seconds). "We didn't set out to develop a hand dryer, but while developing air knives for a different project, we found that the force of air created by our Dyson Digital Motor (DDM) would scrape water from our hands, leaving them completely dry," said James Dyson. The idea for the Dyson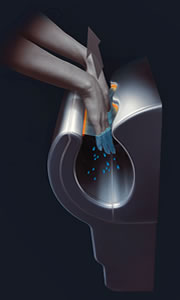 Airblade originally came from a Dyson engineer studying the properties of airflow. He noticed that when he placed his wet hands in front of a gust of unheated air, the water was removed in a few seconds. Realizing this concept would be great for an actual hand dryer, it took Dyson three years to develop the Airblade.
Traditional hand dryers suck up the dirty restroom air around, heat it, and blow it back onto your hands, leaving them damp and prone to spread bacteria. The Airblade is different, using a HEPA filter to remove 99.9 percent of the bacteria from the air to dry your hands. A touchless infrared sensor technology and anti-microbial additive coating also are utilized to reduce bacterial and fungal growth. The Airblade uses the DDM to produce a 400 mph stream of clean air blown through a gap that's no thicker than an eyelash. The sheet of air acts as an invisible wind-shield wiper, whisking the moisture from your hands.
Although I had fun playing with it, the Dyson Airblade isn't meant for home use unless you have a huge industrial-sized kitchen or open area. But for a business, it's worth it: With an average of 500 uses per day, the cost to operate is less than $100/year compared to approximately $450 with a traditional hand dryer, or 50 times that with paper towels. The way the Airblade feels is a huge difference from a normal hand dryer. If I had a physical business office of my own, and as much as I love my paper towels, I would make the sacrifice and use my elbow to turn off the faucet and Airblade my hands dry!
If you're interested in purchasing one for your office, the Airblade sells for $1,400. More information is available online at www.dystonairblade.com or via phone at 1-888-DYSON-AB.
Most Recent Comment(s):