Earning Extra Income Online

By
.(JavaScript must be enabled to view this email address)
July 08, 2009
|
Share

Del.icio.us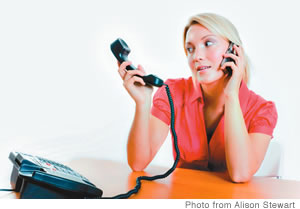 Don't fall for online money-making scams
Unfortunately, I've witnessed a few people fall victim to online scams that promised great wealth from working at home and investments. In this economy, with many job losses and furloughs, anything to generate extra income can sound extremely attractive. Some websites advertised on pop-up ads or spam e-mails may sound tempting to those desperately seeking work or hurting for money, but don't take the bait!
Realistically, you're not going to earn thousands of dollars a week for stuffing envelopes, payment processing/billing from home, or an undisclosed vague "secret method" the company won't reveal to you unless you pay a fee. These are things the companies tell you so that you'll likely buy into the scam, such as a product assembly kit. Then, once you have the "product" in-hand, there's no reason for them to give you a return on investment since they already swallowed your money.
But we do know that there are actual legitimate ways to earn some extra cash online.
Here are a few examples:
* Freelancing: If you have a special talent (i.e. software programmer, web designer, illustrator, foreign language abilities, etc.) you could find a freelance job with elance.com or guru.com. Both sites have a variety of desired trades, and you can post your job for free.
* Transcription services: This is for an extremely fast typist (minimum 75 words per minute) who has a good ear and an excellent command of the English language. Transcription involves listening to recorded speech and putting it into written form. The material you produce can range from interviews, focus groups, corporate research projects and police interrogations to documentary film footage. Here are two reputable companies to check out: productiontranscripts.com/jobs and tigerfish.com/employment. If you don't already have it, both require Start-Stop's Power Play for Windows Media software (fairly pricey investment at around $250).
* Customer service: Patience, a computer and fairly quiet surroundings are required for this one. Working Solutions (workingsol.com) offers work-at-home opportunities for various projects that could include order processing, reservations, customer service, sales or market research. The calls are routed to your home office, and you'll need a computer. No fees are charged to apply or work for Working Solutions.
* Tutor: Are you an academic who enjoys helping others? Online tutoring could be for you. You'll have to go through an extensive screening process to become a certified online tutor. Subjects range from high-level math and science to social studies and foreign languages. Two websites that offer this opportunity are tutor.com and smarthinking.com.
There are countless other legitimate online opportunities out there, but these probably are the easier ones at which to succeed.
Click Chick's iPhone App of the Week: Flight Control
Flight Control is an action/strategy game for your iPhone/iPod touch. You touch and drag aircraft to their landing zones as you avoid midair collisions. It sounds simple, but you need to do this with great skill as planes seem to pop up out of nowhere.
The game features a peer-to-peer multiplayer mode, where you can play together with your favorite iPhone/iPod touch buddy. The aircraft appear as usual, but one controller is in charge of the pink plane, and the other handles the yellow and blue ones. Additionally, you can save/resume your games (i.e. when you receive a phone call) and fast-forward the game if you want it to move along quicker.
Flight Control is so much fun and addicting, it's one of those games that will stay on your iPhone forever. It's perfect to keep you occupied for either a short wait in the doctor's office or that long plane ride that will last hours and hours. Find it at the iTunes App Store on for 99 cents or visit www.fire.mint.com/flightcontrol for more information.
Most Recent Comment(s):