Easy, Affordable Sansa TakeTV

By
.(JavaScript must be enabled to view this email address)
November 14, 2007
|
Share

Del.icio.us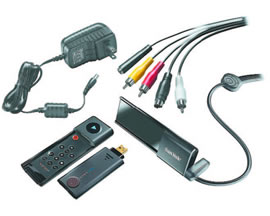 SanDisk released the Sansa TakeTV recently, a video player that gives you a way to conveniently watch content from your computer on your TV. We've seen products that can stream video from computer to TV before, such as Apple TV or Netgear's Digital Entertainer HD, so the concept is nothing new. The difference with the TakeTV is that it's easier on the wallet.
I remember seeing TakeTV at the Consumer Electronics Show earlier this year, but it was called USBTV. It was probably named that originally since it's basically a USB flash drive with a video out. It's a friend to the challenged user - all you do is drag your video files to the TakeTV player and slip it into its cradle. The cradle plugs into standard AV sockets and you'll see an on-screen guide to set up and select the content you've stored on it (controlled using the included remote).
"Sansa TakeTV is the most easy-to-use, straightforward solution for watching downloaded personal video content and other shows in the comfort of the living room," said Daniel Schreiber, senior vice president and general manager for SanDisk's audio/video business unit. "No confusing wireless network setup, no wires running across the living room and no cumbersome burning of DVDs. Just use the Sansa TakeTV device to move your favorite video content over to your TV and enjoy it on the big screen with family and friends."
TakeTV is small and portable, about the size of the first generation iPod nano.
The player is compatible with Windows XP/Vista and the latest versions of Mac OS X and Linux, and video formats DivX, xVid and MPEG-4. It has maximum support of 720x480 pixels (DVD-level resolution), but no High-definition (HD) capability.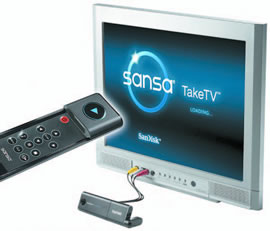 If you have no content to watch, you can use Fanfare (www.fanfare.com). It's a new
Web service (still in beta) just for the TakeTV that gives you access to downloadable TV shows and movies.
Sorry, Mac folks,
Fanfare will not work for you unless you have some sort of Windows running on your machine (i.e. Parallels or Boot Camp). It does not have the selection variety of iTunes, but at least it has CBS, Showtime, Smithsonian Networks, TV Guide and The Weather Channel. Since it's still a beta, I would guess that more will be added on.
The biggest drawback of TakeTV is the lack of HD capability and limited format support. It's also too bad you can't play back any Quicktime or Windows Media-formatted movies. On the plus side, you won't have to deal with any confusing Wi-Fi setups or wait to burn DVDs. Additionally, it's cheap for what it can do. It comes in 4GB (five hours of video/$99.99) or 8GB (10 hours/$149.99), and available at www.taketv.com.
Most Recent Comment(s):