Expanding The World Of Warcraft

By
.(JavaScript must be enabled to view this email address)
November 04, 2005
|
Share

Del.icio.us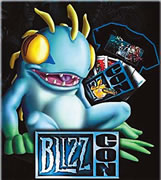 If you play computer games or video games, you know what it's like to have sleepless nights glued in front of the computer or television curled up with your favorite game. That has happened to me with countless computer and video games, only now I have too many games in my life to add any more. I never did get too much into World of Warcraft
, but if you're a gamer, or have just touched a computer, you most likely know what it is.
I have to say that my husband is thoroughly obsessed with World of Warcraft
, and spends countless nights, especially on weekends, playing this game, sometimes without a blink of sleep. He even got a couple people at work hooked on this thing. The madness doesn't stop there. This game was released nearly a year ago in November 2004 and has made ripples across the globe, yet it's probably still one of the most popular games out there.
For those of you who haven't heard of it, World of Warcraft
from Blizzard Entertainment is a multiplayer online role-playing game that lets you battle against other people around the globe. It's a good wholesome, user-friendly game for just about anyone. The game is a fantasy-type game, and there are eight races and nine classes of characters you can pick from. You can choose to join the Horde or the Alliance, which determines what you can and cannot accomplish in the world. If you bring together a bunch of friends, you can also create your own guilds to do quests with so you don't have to do them by yourself. Not to mention the game has good 3D graphics and will work on either a PC or Mac.
Blizzard just came out with a new expansion for World of Warcraft
, which was debuted at BlizzCon. The sold-out $120 per person event was held Oct. 28-29 in California. It's just amazing what a dent one game has made across the world. All the hardcore fans attended to receive an exclusive pet for their World of Warcraft character and a bunch of other cool schwag.
BlizzCon was created to celebrate Blizzard's Warcraft, Starcraft
and Diablo franchises and the communities that surround them. The two-day event featured the developers of World of Warcraft
and Starcraft Ghost
. It offered an opportunity for developers and game fans to meet each other and experience hands-on gameplay with Blizzard's games.
The popular World of Warcraft
can be found at CompUSA or GameStop for about $50.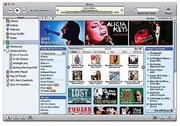 Apple's iTunes 6. I hope I'm not iTuning or iPodding you out, but Apple's latest release of iTunes is just too good not to mention. As a diehard Apple fan, I couldn't go on without telling you about the new iTunes 6.
iTunes 6 was recently released just a short 35 days after iTunes 5 became available. iTunes in general has always been an excellent one-stop music shop, but now this latest release comes with some dramatic new features, including downloadable television shows and music videos, in addition to music.
Television shows such as Desperate Housewives
, Night Stalker or Hawaii's own Lost are available for purchase from the iTunes Music Store. It's perfect if you miss an episode of your favorite show so you don't have to wait for all the reruns to air. In addition, there are about 2,000 music videos available to download. The television shows and music videos are both $1.99 each. There are also more than 2 million songs, 20,000 podcasts and 11,000 audio-books available. Another new feature is the ability to purchase digital box sets that include about 500 songs, bonus videos and a full-color digital booklet in each set.
This is the first time that hit primetime shows can be purchased the day after they are aired. iTunes 6 includes expanded online gift options that allow you to send specific songs, albums, music videos or your iTunes playlists to your friends. You can send these to anyone with an e-mail address, and an iTunes account is not required for receipt.
The new iTunes 6 release came hand-in-hand with Apple's newest 30GB or 60GB iPod
, with the ability to hold up to 150 hours of video. The new iPod allows you to enjoy all your music with your television shows, music videos, home movies, video podcasts, photos and audiobooks. I know it doesn't make much sense to watch videos with a small device of that size, but with a battery life of 20 hours, it sure can provide for hours and hours of entertainment if you're on the road going from airport to airport, in the car or just sitting at Starbucks. You can download the free iTunes 6 for yourself at www.apple.com, and it's available for both Mac and Windows. On Apple's web-site, if you hit the iPod link, you can also check out the latest iPod to go with your new iTunes.
.(JavaScript must be enabled to view this email address)
Most Recent Comment(s):