Feed Your Pets Wherever You Are

By
.(JavaScript must be enabled to view this email address)
March 05, 2008
|
Share

Del.icio.us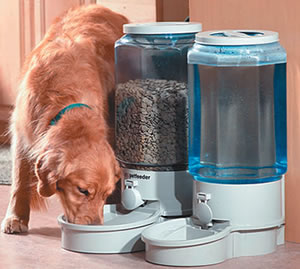 As I type this, I'm on the way to feed my friend's cats while she's on a trip. I totally don't mind since I have a cat (and a parrot) of my own, and I understand her furry friends' needs. One thing I've learned is that it's best to ask people who enjoy or own animals themselves to feed your furry/feathered treasures. We learned our lesson thoroughly when our friend (who shall remain nameless, but forgiven) forgot to feed (or give water to) our two starving cats for five whole days!
If you'll be traveling soon and don't know anyone to feed your critters, or just want to keep an obsessive eye on them while you're not at home, a viable option is Smarthome's Remote Pet Feeding & Viewing Kit. It runs with Ergo Pet Feeders, INSTEON home control technology and a Panasonic web cam. To run it properly, you'll need a PC connected to a high-speed Internet connection, and the viewing kit comes with the feeder and Panasonic network camera.
The first step is setting up the feeder indoors or in a covered area next to a power outlet. You then need to install the timer software onto your home PC and connect the USB PowerLinc Controller to your computer, and the ApplianceLinc to the feeder. You can the schedule feedings with the software or directly from the feeder itself.
The Panasonic camera plugs straight into your local network, and since it has an external web server, you don't need to have your computer around to view its feed. A free web address you assign to it through www.viewnetcam.com makes this possible. You'll see the images in color and they're viewable anywhere you have a web browser, including cell phones. There's also a color night view mode, and for total darkness you can purchase an IR Illuminator separately ($140).
The large feeder is for cats or dogs weighing more than 15 pounds and can dispense food up to eight times a day, seven days a week, 365 days a year. Why you would want to feed them eight times I day, I do not know, but it's possible.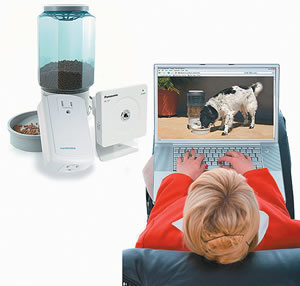 The food is dispensed over a minute with a slow-moving auger, and if an anxious pup puts his tongue up the chute, it's still safe. For pets weighing less than 15 pounds, there's a small feeder option.
Of course, these feeders don't replace the face time you need to spend with your pets, but it's nice to know it's out there if you can't find anyone to feed/water them. Too bad this won't work for my bird, but he's just too high maintenance. He usually goes to grandma's house anyway while we're gone (and gains weight while he's spoiled).
All of Smarthome's products are available on its website at www.smarthome.com. The Remote Pet Feeding & Viewing Camera Kit sells for $149.99 (small feeder) or $169.99 (large feeder).
Most Recent Comment(s):