Fight Diseases With Your PS3

By
.(JavaScript must be enabled to view this email address)
April 18, 2007
|
Share

Del.icio.us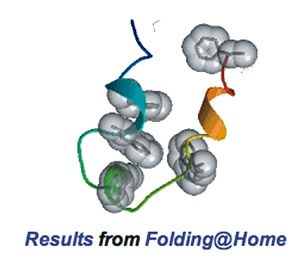 Folding@home (also known as FAH or F@H) has been around for a while, but after talking with different people, I'm finding that this project isn't common knowledge.
You may not know in what context I'm using the word "folding," but I'm definitely not talking about folding your clothes or origami. It's all about protein and other molecular simulations to help fight diseases such as Alzheimer's, Parkinson's, Mad Cow diseases and many cancer/cancer-related syndromes.
With this in mind, know that you can use a PlayStation 3 (PS3) to help fight these diseases and more. The PS3's Cell processor can fold these proteins and achieves performance only possible with a supercomputer using distributed computing (an approach adopted by universities and research labs to use immense computing power without the use of central supercomputers - small computing tasks are assigned to each user's CPU and the results are collected after each computation is complete).
It's a perfect excuse to say that you "need" a PS3. Folding with a PS3 can attain this massive computing power with performance on the 20-gigaflop scale. With about 50,000 PS3s around the world in action, the performance can reach the petaflop scale.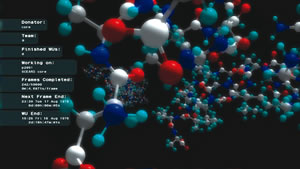 Pretty dang impressive, don't you think?
If you do already own a PS3, make sure it has system version 1.6 or later. If it's not, I would recommend downloading the system update. Once you have that all set, you'll see a Folding@Home in the network column of the XMB (PS3 menu). Click on the icon and that's it. You can sit back and watch your PS3 fold proteins in work units (WU). Each WU takes about eight hours to complete, but you can run it overnight to achieve a useful result. Note the WUs do expire if you should decide to pause it and restart.
It's fun to surf around the world map to see where other PS3s are folding too. They're just about everywhere. Also, your PS3 will use about 200W while running .(JavaScript must be enabled to view this email address). The program's research lab has several PS3s successfully at work showing good results so far.
If you're wondering why this all matters, proteins are important because they are the workhorses or nanomachines of biology. They're the necklaces of amino acids and the basis of how biology gets things done. As enzymes, they're the driving force behind all of the biochemical reactions that make biology work. Before carrying out their important functions, they assemble themselves or "fold."
Although fundamental to almost all biology, the whole process of protein folding remains a mystery. If proteins do not fold correctly, we see serious consequences. Thus, all this folding is important to the cause.
Since 2000, more than 1 million computers have participated in this distributed computing project. Every participating CPU increases the computing power available to the F@H project. The overall goal is to research and protein folding and mis-folding to gain an understanding of how these are related to disease.
Even if you don't have a PS3, you can still help cause by running the software on your computer. Band together to help make one of the largest supercomputers in the world. Each PS3 or computer brings the project closer to the goals. Visit the web-site and download the software at http://folding.stanford.edu. For your computer, it's available for Windows, Linux, Mac OS X.
This program isn't limited to English; you can also find it in Chinese, Dutch, French, German, Italian, Japanese, Korean, Occitan, Persian, Polish, Portuguese, Russian, Spanish and Vietnamese.
Most Recent Comment(s):