An excellent little tool for recording life

By
.(JavaScript must be enabled to view this email address)
August 01, 2008
|
Share

Del.icio.us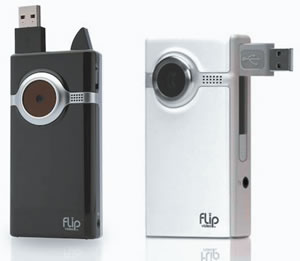 A couple weeks ago I was sent the Flip Mino ultra-compact video camera to try out. It was perfect timing, since I took it with me to Japan. It was convenient to use to take snippets of the plane and train rides, and just a little bit of whatever I saw.
Unpacking it was interesting - I thought it was odd that the camera's packaging was almost identical to that of an iPhone. When I pulled it out, I was pleased to see how small it is. It's only 4-by-2-inches and weighs 3.3 ounces - almost nothing. It slipped right into my pocket with no bulk. Because of its size, I think this is an excellent little tool for bloggers or folks who just enjoy recording life.
This Flip Mino camera is the latest innovation by Pure Digital Technologies and its critically acclaimed Flip Video family of camcorders.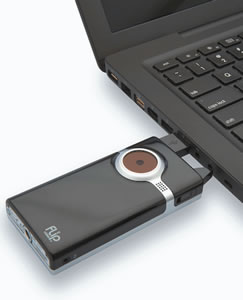 "Flip Video Mino delivers the perfect combination of high-quality video, sleek design and ease of use,"says Jonathan Kaplan, CEO of Pure Digital Technologies."For the millions who share their lives online every day, it's more than a camcorder - it's a fun tool for communicating and creatively expressing themselves."
With 2GB of flash memory, the Mino allows you to capture up to one hour of video with its touch-sensitive buttons that record, play, fast-forward, rewind, pause and delete (four buttons surrounding the red "record"button). The touch sensitivity might be a bit too much if you're not used to that type of interface. There's also a 2x one-touch digital zoom that I found very convenient when adjusting the picture in the frame.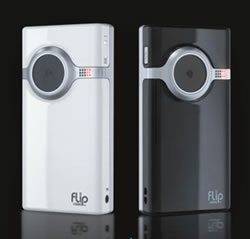 Once you record a video, you can do instant-playback on the camera's 1.5-inch anti-glare LCD display. The picture quality is not high definition, but you'll at least receive 640x480 megapixel quality (MPEG-4 AVI clips at 30 frames per second). The USB connector pops out with the push of a button, and it's what you use to sync your videos to your computer as well as charge it. One charge of its lithium ion battery will last you about four hours. Using the Flip Mino's built-in video management software, you can edit and share your
videos from either a Mac or PC. You can capture still photos from your videos, do custom editing of movie mixes with the option to set them to your own music, save and organize videos on your computer, and perform one-click e-mailing of videos and video greeting cards. Additionally, if you're a MySpace, YouTube or AOL Video user, you can do instant uploads since the Mino has built-in integration with these sites' video players. Video is especially becoming more popular with MySpace.
"Video is a major part of the MySpace experience, and the Mino's portable design means MySpace users can capture their life as it happens," says Josh Brooks, vice president of marketing for MySpace. "We are excited to partner with Flip Video to make it easier than ever for MySpace users to directly upload and share content on MySpace TV."
The Flip Mino is great for portability and people who love to take on-the-go videos, but the price is a little steep at $179.99. It's definitely a good user-friendly, point-and-shoot camera that puts out good picture quality for its size (perfect for a blog).
You can find the Flip Video in black or white at your nearest Best Buy, Sears, Wal-Mart or online at www.amazon.com (free shipping).
Most Recent Comment(s):