Focusing On Free Downloads

By
.(JavaScript must be enabled to view this email address)
January 13, 2006
|
Share

Del.icio.us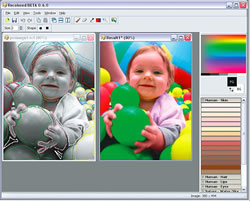 Recolored
I've had to painstakingly colorize photos manually before, and it's really not fun to do unless you're bored, have ample time to kill or are just extremely patient. Well, I discovered a program that will make my life and yours easier, especially if you have a lot of black-and-white photos you want to colorize.
Recolored is a software application that helps you with the normally difficult and time-consuming task of colorizing black-and-white photos. Based on the latest developments in computer-assisted image colorization, Recolored makes it possible for anyone to achieve professional-looking results with a few clicks.
To add color to a photo, all you have to do is add markings to the different regions of the image, indicating how it should be colorized. Then click the colorize button and let the software do the rest.
I've heard mixed comments on the difficulty level of the soft-ware's use. Some say it was a little tough to use, others say it was easy to use. Personally I find it simple and easy to use. Recolored's website takes you through an easy-to-follow tutorial on how to use the software if you get stuck or just want to review it before you make an attempt to colorize your picture.
If you don't feel you're savvy enough, it is definitely a good idea to go through it, and as long as you pay close attention to this tutorial, you should be able to master Recolored just fine. The software comes with the standard tools you would see in any photo editing program (i.e. Photoshop) including the brush, eraser and eyedropper tool. Then the color replacer and colorize tool make it complete. Once you click the colorize tool, like magic you see the final result to your efforts.
Recolored's website also shows you some photos that were actually colorized using the program. If you wanted to be creative with the program, I suppose you could also use it to add new life to your existing color photos, and not only limit yourself to the black-and-white photos.
Recolored was developed by Bertheussen IT in Norway, and is still in the beta (testing) stage. It is available to download for free, non-commercial use only. For you professionals, a commercial version will be released shortly at the beginning of this year. Recolor your world at www.recolored.com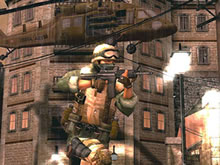 Art Of Free War
Art Of Free War. When I buy a high-quality video game, I typically pay around $50. I also usually have high expectations to get what I paid for. I never would have thought that there would be a free game with the superiority of something you would normally pay big bucks for. Well, I've got news for you. There's a new first person shooter (FPS) game that's completely free!
War Rock is a downloadable game that features quality graphics and effects you would expect from a very good commercial game.
The gameplay is similar to what you would see in Battlefield 2, and features spawning and frantic online fights including vehicles and aircraft. I did spend the money to purchase Battlefield 2, so I was thoroughly impressed with the quality of War Rock. It's Korean-made, so I guess I would call it a Korean knock-off of Battlefield 2, sort of like the knock-off name brand purses you would find there too.
War Rock features a messenger system that provides support to the game's community. It adds to the trading system between players. Various game modes are available to use, such as conquest or death match. You can choose from five character classes: engineer, medic, patrol, assault or anti-tank. Depending on your character's level, you can buy your own weapon by battle point or game money. You start your ranking from the very bottom at Private Second Class, and work your way up to General.
Some of the personal weapons you can acquire include the knuckle (good ol' punches - bring an enemy down silently at close range), pistol, rifle, submachine gun, sniper rifle, anti-tank weapon-ry, anti-tank mines and grenades. I personally like anything with big explosions, so those TMA_1A anti-tank mines come in handy. Unlike the other weapons, you cannot recharge them, and they lose ability once detonated by the enemy force. If I play a scout, my other favorite is the M24 sniper rifle to take out enemy targets from afar. It's equipped with a two-stage zoom function, what you normally see in a FPS game.
As for any bugs in the game, there's no support for it, so you're stuck with what you have. The other thing to remember is when you download it, don't use your Firefox browser. For whatever reason, it will not work. Just stick to the standard Internet Explorer.
Download your own free copy of War Rock at www.warrock.net. It is only available for the PC, and the free period will not last forever, but they haven't decided when to end it yet.
Most Recent Comment(s):