Free Phones From Hawaiian Telcom

By
.(JavaScript must be enabled to view this email address)
February 11, 2009
|
Share

Del.icio.us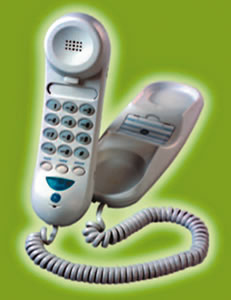 We all remember when the power went out the day after Christmas ... fun times. Through it all, if you had a landline phone with Hawaiian Telcom, you probably still had service.
Since that power outage, Hawaiian Telcom is extending its free phone program for its customers through the end of this month. As long as you're a customer, you're entitled to a complimentary corded phone, which does not rely on electricity to work.
"In light of the recent island-wide power outage, we have decided to extend the program for another two months to ensure that all eligible customers have time to pick up their phones from a Hawaiian Telcom retail store," said Craig Inouye, senior vice president-sales. "When the power went out on Dec. 26, most other phone services could not operate, but customers with Hawaiian Telcom's reliable landline service and a corded phone could continue to reach emergency services and loved ones."
The complimentary corded phone available is GE's Slimline. It's a very basic phone that has handset/ringer volume control, 10-number memory, one-touch redial, flash function (for three-way calls) and is hearing aid compatible.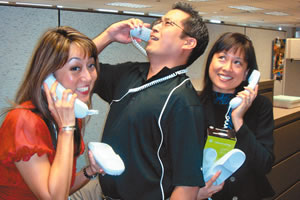 (from left) Ann Nishida, Ken Morikawa and Yvonne Yanagihara chat it up on their free phones. Photos courtesy of Hawaiian Telcom
These phones work on the low-level electrical current provided from Hawaiian Telcom's central offices, which have backup power in case of an emergency. So far, thousands of customers have received their free phone since the program began in June 2008.
For more information, check out www.hawaiiantel.com, or to visit one of the Hawaiian Telcom stores: Hawaiian Telcom Building (downtown), Kapolei Shopping Center, 1409 Kapiolani Blvd. (formerly Francis Camera), Pearlridge Center or Windward Mall.

Click Chick's iPhone App of the Week: TrueFlirt
With Valentine's Day a few days away, there's love and flirting in the air. Most of the younger crowd flirts virtually with text messages, and TrueFlirt is an app designed to accomplish this in a fun way with your iPhone/iPod touch. You can send interactive virtual "flirts" with your device by tilting, tapping or shaking your phone. "More than half of the 50-100 SMS text messages sent daily by the average 14- to 24-year-old are flirtatious in nature. TrueFlirt was designed to make flirting less stressful, more playful and fun," said Rob Frasca, CEO of Viximo. "The iPhone is an ideal device for adding a deeper layer to the social dialogue and taking the art of flirting up a notch with the TrueFlirt app."
TrueFlirt combines text messaging with 2D animations that respond to your interactions and comes preloaded with 10 Flirts. You can offer an object of your affection such as a love potion that bubbles and pours when you tap or shake your iPhone, or you can open a virtual fortune cookie that can be opened to reveal a tempting prediction about your blossoming romance. You also can send a romantic balloon ride and watch the fireworks. All the Flirts take advantage of your iPhone's screen tilt, touch and sound experience.
The full version of TrueFlirt costs $3.99, and TrueFlirt Lite is free. You'll see a few more features with the paid version. It's a unique and cute way to say you care to the one you love.
Most Recent Comment(s):