Free Wi-Fi around town

By
.(JavaScript must be enabled to view this email address)
September 12, 2008
|
Share

Del.icio.us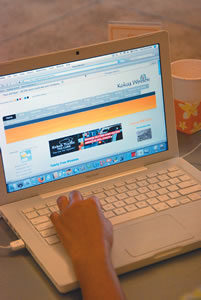 Adding onto the free Wi-Fi we have around town thus far, we can thank CB Richard Ellis (CBRE) for adding more choices that stretch from the airport to Waikiki. As of last week, CBRE became the first commercial real estate company to provide free Wi-Fi in public areas of its managed buildings by partnering with the City & County of Honolulu's Kokua Wireless network.
Last week CBRE announced that 10 managed properties on Oahu are already connected or will be very shortly. "CB Richard Ellis is the largest commercial property management company in Hawaii, so this partnership with the city can really help the network to grow quickly, and that makes our managed building amenities better," says Laurie Akau, CBRE general manager of Harbor Court. "We are always innovating for our property owners and tenants."
embed="elements/box_ad"}
Last year Kokua Wireless provided more than 100 Meraki wireless receiver/transmitters to the city at no charge to launch the Chinatown coverage we have today. For this new launch, CBRE also acquired these devices for its buildings, and each building provides its own receiver/transmitter installation, power and Internet service. Since each building has to pay for Internet anyway, they're just sharing their connection with people looking for an Internet connection.
"Partnerships with private-sector companies like CB Richard Ellis are an important part of our efforts to continue providing the people of Honolulu with a better quality of life without any cost to the city," says Honolulu Mayor Mufi Hannemann. "We envision the system growing as users continue to create new features and uses."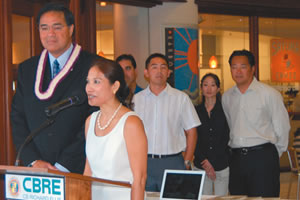 Laurie Akau, CBRE general manager at Harbor Court, and CBRE property managers welcome Mayor Mufi Hannemann at the launching of a new partnership to offer free wireless Internet service to the public areas of 10 CBRE-managed buildings through the city's Kokua Wireless network. Photo from CB Richard Ellis Group Inc.
For starters, take advantage of the new free wireless in these areas:
* Airport Center Office Building, 3049 Ualena St.
* Hawaii Agriculture Research Center (HARC), Robert L. Cushing Building, 99-193 Aiea Heights Dr.
* Waikiki Galleria Tower, 2222 Kalakaua Ave.
* Waikiki Trade Center, 2250 Kuhio Ave.
* King Kalakaua Plaza, 2080 Kalakaua Ave.
* Harbor Court, 55 Merchant St.
* Model Progress Building, 1188 Fort Street Mall
* Ocean View Center, 707 Richards St.
* Haseko Center, 820 Mililani St.
* Kapiolani Business Plaza, 1580 Makaloa St.
Additionally, the City & County of Honolulu currently provides free wireless Internet access Hotzones at: Chinatown, Ewa Beach Community Park, Frank F. Fasi Municipal Building, Kalakaua District Park, Maili Beach Park, Nanakuli Beach Park, Neal Blaisdell Center, Pililaau Park and satellite city halls at Ala Moana Center, Pearlridge, Windward Mall, Fort Street, Hawaii Kai Corporate Plaza, Keolu Shopping Center, Kapolei Hale, Kapalama City Square in Wahiawa and Waianae Neighborhood Community Center. Hopefully we'll see more locations pop up in the near future.
You can connect to any of these free spots with your laptop, phone or other Wi-Fi-enabled devices within the common areas of the buildings. It will display as Kokua Wireless, but note that you will not be able to download music, movies or X-rated material since they're all blocked by the network. You'll also need to refresh your login after one hour.
Happy surfing!
Most Recent Comment(s):