Fun New Tech Toys For 2010

By
.(JavaScript must be enabled to view this email address)
January 13, 2010
|
Share

Del.icio.us
First, I need to apologize for my Dec. 30 column titled Monitoring Home Energy Usage. After it published I realized - and several readers pointed out - that in the fourth and fifth paragraphs, when referring to "kilowatt hours (kWh)," I meant to say "kilowatts (kW)" and not "kWh." Sorry for any confusion this may have caused.
Now for the fun stuff: What toys we will see in 2010.
For starters, as I write this, the annual Consumer Electronics Show (CES) is kicking off in Las Vegas, and there'll be no shortage of new products on display - more than 20,000 in fact. This year boasts a record number of exhibitors, with 330-plus new companies joining the 2,500 that are usually there. This year's CES features 20 market-specific TechZones that highlight the latest trends in emerging markets, including Lifestyle Gadgets, Mobile DTV, Safe Driver, eBooks, Experience 3D, and my new personal interest, the Mommy Tech and Kids
Play TechZones. I also noticed that a couple of companies have power cells that convert water into electricity.
Considering all of those, and looking at the coming year in general, I anticipate the hottest items will be 3D TV, netbooks (especially the ones that include Intel's new Atom N450 chip) and, of course, e-readers. There are many e-readers coming out of the woodwork, but the big one everyone is talking about is coming from Apple, and it will not be at CES.
Apple's e-reader is rumored to be more of a tablet PC and will be unveiled at the end of the month. Supposedly, it will have a 10- to 11-inch touch screen with a $1,000 price tag. This is about three times the cost of the current mainstream competition, the Kindle and Nook. With this higher price, people may not be as likely to go out and buy one as a "must-have" device.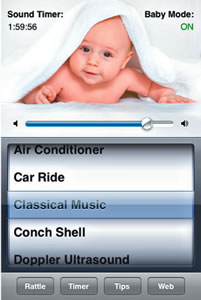 On top of all that, Google jumped on the trying-to-compete-with-the-iPhone bandwagon and announced its Nexus One phone. The "super-phone" is what they kept calling it during the launch event because of the 1GHz Qualcomm Snapdragon processor, the Android 2.1 operating system and the Google apps from the Android Store. I'm skeptical, but if you want to give it a try, the Nexus One costs $179 with T-Mobile service, or $529 if you want to use your own service and insert a SIM card (google.com/phone).
Overall, 2010 will be an interesting year for tech. Stay tuned for news from this year's CES. Since I couldn't attend (again), Mr. Click Chick is there covering it for me.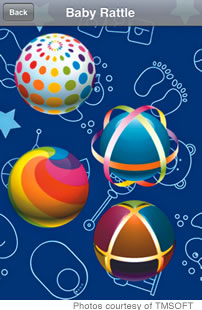 Click Chick's iPhone App of the Week: White Noise Baby
As new parents, my husband and I have been blessed with a well-behaved baby (she even sleeps through the night). The only time she ever cries is when she's hungry (so far). I downloaded the White Noise Baby app hoping I'll never have to put it to its real use, but it seems to be helpful if you have a fussy baby.
The app features a variety of ambient sounds, including an air conditioner, car ride, classical music, conch shell, doppler ultra-sound, hair dryer, vacuum cleaner, blue noise, gray noise, pink noise, red noise, violet noise, white noise, dripping water, grandfather clock, a heartbeat and wind chimes. A shut-off timer is included so you can let it run for a set amount of time.
Additionally, White Noise Baby includes a baby rattle with touch and shake controls. Our little gal is mesmerized by all the colors on the screen as we shake the phone in front of her. To help you eliminate some crying, this 99 cent app is worth it. Find it at the iTunes App Store.
Most Recent Comment(s):