Gadgets For Disaster Survival

By
.(JavaScript must be enabled to view this email address)
September 09, 2005
|
Share

Del.icio.us
As I've been watching the news covering the aftermath of Hurricane Katrina and how so many people were unprepared, it made me want to throw my own disaster kit together, but with a high-tech twist, of course. In order to live through something of that magnitude, you would need ample water, food and perhaps a power source.

Water Source.
What do you do after you drink all your bottled water and there's no clean drinkable water left? You can only survive a few days without hydrating, so water is the No. 1 most important survival need. Mountain Safety Research (MSR) makes the MIOX Purifier
, and believe it or not, it can turn that foul liquid from the Ala Wai Canal into drinkable water.
The MIOX Purifier
is about the size of a magic marker and is extremely portable, weighing in at only 3.5 ounces. It may be small, but it's powerful enough to neutralize the nastiest bacteria, pathogens and chemicals, including E. coli, giardia, cryptosporidium, anthrax, plague, nerve gas and many others. Using salt, water and an electrical current, this purifier works by creating a powerful dose of mixed oxidants, which you add to the untreated water, and that kills the viruses and bacteria .
Since the MIOX requires just regular batteries and salt to operate, it's easy to use and maintenance-free. It definitely represents a revolution in water treatment with its compact size, and no pumping or iodine requirements. You can either use it for small amounts or larger amounts of water, up to 200+ liters. You'll know when your water is safe to drink by testing it with indicator strips.
The MIOX Purifier
kit includes salt, batteries, safety indicator strips and a storage sack. It is available for $129.95 at REI (www.rei.com), and the replacement kit containing test strips and salt is $17.95. In addition, this could be a good (overseas) travel or hiking companion.

Power Source. In a power outage, there are only so many batteries you can have to run the absolute necessities. Hopefully you were smart enough to buy the rechargeable batteries along with the necessary charger.
The problem is if there's no power, you can't charge those batteries. But don't worry, there's a product that will get those batteries charged and give you an excellent source of backup power in the event of an outage.
The XPowerpack 400
Plus is powered by a rechargeable battery and provides you with up to 400 watts of portable AC power without the hassle of a big noisy generator. It gives you the power to charge your cell phone or run a small television or radio. It can also juice-up the household appliances you may need such as small power tools, fans, lap-tops or kitchen accessories (i.e. rice cooker).
XPowerpack 400
can jump-start your car and comes with jumper cables. It has a builtin 250-psi air compressor (with nozzle adapters) so you can inflate a rubber raft that will float you to safety, or fill up your car's tires. It is rechargeable from an AC wall outlet (before the disaster happens) and comes with a DC charging cable so you can recharge it from your car. It has an illumination light and a three-digit digital display that shows you the percentage of battery capacity available and the watts of power being drawn from its own outlets. It will sound an alarm if it is close to overheating, so you don't have to worry about overloading it. The XPowerpack 400
Plus is available for $149.99 at www.amazon.com
.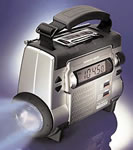 A good partner to the
XPowerpack is the World
Band Emergency Radio and
6-LED Lantern
A good partner to the XPowerpack
is the World Band Emergency Radio and 6-LED Lantern made by Sharper Image. This worry-free radio doesn't require any batteries or power source. Three minutes of hand cranking to give it power provides you with 20 minutes of radio play or 18 minutes of light. It comes with a blue backlit digital clock and an alarm clock complete with a snooze alarm. It is $89.95 at the Sharper Image store at Ala Moana or online www.sharperimage.com

Food. After you've eaten your supply of Spam, corned beef and dried saimin, then what? It's probably also a good idea to have an adequate supply of meals ready to eat (MREs). I promise, they're really not that bad. I lived off them for about a week while going through some military training.
For those of you fortunate to know someone in the military, definitely get those authentic MREs. For those of you who don't have that connection, you can buy similar civilian MREs from http://www.majorsurplusnsurvival.com. A case of 12 is about $67. Each meal pack contains an entree, side dish, snack (fruit bar or crackers), water-activated flameless heater and an accessory pack (containing salt, pepper, coffee, sweetener, wet wipes, a spoon, matches, and jelly spread and peanut butter). Bon appetit!
www.click-chick.com
Most Recent Comment(s):