Getting A Clear Shot At Photos

By
.(JavaScript must be enabled to view this email address)
May 12, 2006
|
Share

Del.icio.us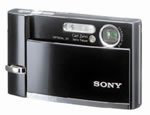 7.2-megapixel Cyber-shot
DSC-T30
As much as I love to take pictures, I admit that I don't have the steadiest hands in the world. Although my photos tend to be meticulously cropped and framed, sometimes my photos turn out blurry because my hands move too much while I'm snapping the shots. At least with digital these days, I can see right away if my pictures come out blurry or not. Still, it's a shame to make everybody stand there with plastic smiles for what seems like an hour while I reframe and retake the shot. I don't have to worry about that anymore with Sony's latest Cyber-shot camera.
Sony Hawaii recently gave me a preview of the new 7.2-megapixel Cyber-shot DSC-T30, which virtually eliminates the shaky hands blur with Sony's Super Steady Shot optical stabilization. It has a high light sensitivity (ISO 1000) mode that reduces blur resulting from shooting at faster shutter speeds. It also has an added defense of Sony's Clear RAW noise reduction system, which counters picture noise associated with high-sensitivity shooting. All perfect for me, not to mention its thin size makes it the ideal accessory that fits into my smallest purse or pocket.
In addition to its size, my other favorite feature of the T30 is the big three-inch screen. It makes it easy to see if my picture came out as perfectly as I thought it did. It also has a slide show with music function for that fun "gather around the camera" session with your loved ones.
For optimal shooting, the T30 uses a Carl Zeiss Vario-Tessar 3x optical zoom lens. In addition to this excellent lens, know that the T30 is the first in the T-series to feature selectable color modes. Depending on what mood you're in, shoot your pictures in a natural mode for subtle color variations or a vivid mode for more intense colors.
The camera has 58MB of internal memory, but you can expand its capacity up to 2GB with a Memory Stick Duo media card. The Real Imaging Processor enables the camera to start up quickly, gives you faster shot-to-shot times, high quality movie capture and longer battery life. The InfoLithium battery provides you with the ability to take up to 420 shots per full charge. That's nearly double the performance of the current T-series cameras.
The Cyber-shot DSC-T30 is available in silver or black and sells for about $500 at www.sonystyle.com or any Sony authorized dealers.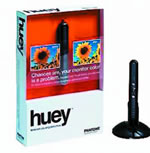 Pantone huey
Monitor Calibration For Your Computer. When viewing and color correcting pictures on my computer, I expect them to print out the way they appear on my monitor. I've been fortunate enough to have my prints turn out all right, but I know a few people who have the worst luck with this. If your prints are not matching what you see on the screen, then you may need to calibrate your monitor.
Individuals who use monitor calibration the most are graphic artists, where it is important for the colors on their screens to match what is printed. The average computer user probably doesn't know what monitor calibration is or that it can be done to a monitor.
Calibrating corrects the color on your monitor so that photos and designs print more accurately to what you see. It also makes graphics and movies appear true-to-life.
Monitor calibration is usually cumbersome and time-consuming, but Pantone recently came out with the Pantone huey that makes it simple. It is an inexpensive monitor calibration tool that makes the deed almost painless. It's easy to use right out of the box and you do the simple setup through the software, which offers a few adjustable settings. You can choose to have it recalibrate anywhere from every 10 seconds to every four hours, and it does it based on the room's changing light conditions. You place the sensor in its stand, facing you. As nighttime falls or as your overhead lights turn on, the software adjusts the monitor's color temperature and luminosity. Also, to make sure it works as flawlessly as possible, make sure you have the latest driver for your graphics board.
Each Pantone huey package includes a huey measurement device (emission only colorimeter) with ambient measurement capabilities, and the software for monitor calibration. It works with Windows (Windows 2000 and higher) or Mac (OS X 10.3 or higher) and is available at www.pantone.com for $89.
Most Recent Comment(s):