Getting A Zillow Home Zestimate

By
.(JavaScript must be enabled to view this email address)
August 16, 2006
|
Share

Del.icio.us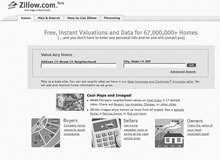 With real estate the way it is these days, and myself a recent house-hunter, I was compelled to do my own extensive research on just about everything concerning the housing market. During this time, I discovered Zillow, the best online real estate tool I could ask for. It offers you the capability to find out instant home valuations and data for 67 million-plus homes across the country for free.
If you're a buyer, Zillow's maps help you scope out different neighborhoods you're interested in, and give you an at-a-glance look at the home prices in the area. It also shows you Comparables (aka comps), which contrast criteria from recently sold properties in a neighborhood, such as the sale price, house age and square footage. Your real estate agent will typically use comps to prepare a Comparative Market Analysis (CMA) for you. Zillow identifies these comps for you by calculating the Zestimate with the My Zestimator tool.
When you have a specific address selected, click on the Zestimate window that pops up. It will show the home's details, including the type, lot size, bedrooms/baths, square footage and the year it was built.
The Zestimate gives you the value range and whether or not it went up or down, and the Zestimate Ranking (i.e. For one of the searches I did, it said 78 percent of homes in the 96734 ZIP code have a lower value than this home). Additionally as a buyer, you can take a look at the financing section. It gives you the option to request a quote, and take a look at national mortgage and interest rates.
From the sell-er's perspective, use the Zestimate to see your home's estimated market value, using Zillow's proprietary formula. Of course the values aren't 100 percent on the mark, but it gives you a rough idea of coming up with a fair asking price. If you're curious about the past, you can go back in time and look up historical Zestimates. This is crucial to seeing how your home has appreciated or depreciated over the years.
You home owners can take advantage of the My Zestimator feature by editing your home's facts, such as home improvements, special features, and refining your comps list. These little tweaks will give you a better idea of what your house is worth.
Other features you can use are the Bird's Eye View or heat maps, but unfortunately not for Hawaii yet (since the website is still in beta). The Bird's Eye view allows you to see satellite images (3-D like images) from all angles. If you're curious, you can also look up famous homes such as the Beverly Hillbillies mansion, The Brady Bunch home or the Osbournes' MTV house. In addition, the heat maps will show you quick neighborhood comparisons, using different colors. There are 17 sample cities you can look at, but sorry, no Hawaii again.
If you're concerned about privacy on Zillow, you don't have to worry about it since you don't enter any personal information, and no one will contact you. Overall, Zillow provides us, the average consumer, a way to look up information that was previously only privy to those in the real estate industry. Whether you're in the market for a new home, or just inquisitive, take advantage of it at www.zillow.com.
Most Recent Comment(s):