Getting creative with Modbook

By
.(JavaScript must be enabled to view this email address)
June 06, 2008
|
Share

Del.icio.us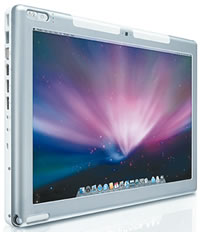 Walking through Axiotron's booth at this year's Macworld was so colorful, with artists all over the place drawing their creations on Modbooks.As soon as I saw these, I wanted to grab one and take it home with me! Luckily I have one in-hand at the moment, but have to reluctantly return it soon.
The Modbook isn't quite a mainstream computer, and it's the only "Tablet Mac"around.You can draw and write directly on the screen with a special pen, and I would describe it as an off-the-shelf MacBook laptop modified with a special converter kit minus a keyboard and mouse. Perhaps it's not the best for an everyday computer, but it makes a perfect canvas for a graphic artist.
The first thing I noticed while playing with the Modbook's included Axiotron Digitizer Pen is, if you hold it just above the screen, it senses the pen and you can move it around as a mouse. It has two programmable side buttons, a digital eraser and three different replaceable pen tips.
It has 512 levels of pen pressure sensitivity to offer you fast and accurate responses.Additionally, no batteries are required for the pen, and the radio-based digitizer technology allows you to draw and sketch with your hand resting on the screen. I'm not sure if this is a common occurrence with other Modbooks, but the one I had kept freezing up and would not recognize the pen. Since there's no keyboard, I would have to do a hard-reboot each time. If you really need to, you can always plug in a keyboard/mouse through the USB port or connect it via Bluetooth.
I'm far from an artist, but I had tons of fun drawing with it in Photoshop. It's amazing how sensitive the pen is to pressure on the screen. It automatically adjusts to how hard you press.Using this without a keyboard was a big challenge. I'm used to typing out everything with a regular keyboard, but with the Modbook I had to pull up the on-screen keyboard and manually type in what I needed to (mainly on webpages).Another drawback is that you cannot rotate the display - it's always in landscape view.
Each Modbook comes pre-installed with Mac OS X Leopard, a built-in iSight camera, an integrated 24x DVD Combo drive or 8x DVD SuperDrive and a builtin Global Positioning System (GPS). The GPS is a cool feature, but not very practical for everyday use. It's based on the SiRFstarIII chipset, and you can turn it off to save the battery.
The Modbook's shell and interior display are built from top-grade, aircraft-quality magnesium alloy, providing you with superior structural strength.A triple layer of metal plating - nickel over copper topped with chrome - results in an extremely scratch-resistant and aesthetically pleasing surface. The LCD panel is strengthened with Axiotron's ForceGlass and layered with an anti-reflective coating to create a brighter image, and an etched surface to provide a paper-type drawing and writing sensation.
Overall the Modbook is a great machine, but a little heavy at 5.5 pounds. Additionally, it's a bit pricey, starting at $2,279 for a 2.1 GHz model with a 120GB hard drive (or $2,479 for the 2.4 GHz/160GB).You can purchase it at www.axiotron.com.
Most Recent Comment(s):