Getting In Tune With Zune

By
.(JavaScript must be enabled to view this email address)
February 06, 2008
|
Share

Del.icio.us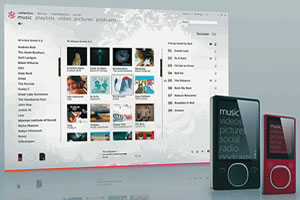 Admittedly, I've been a stubbornly dedicated Apple iPod lover over the years. But I stepped out of my comfort zone when I decided to try out Microsoft's Zune 2 and tote it around for a few days. This improved portable media player was introduced in fall 2007 to compete with iPods.
Three new Zune models were announced - a 80GB hard drive model and 4GB and 8GB versions with flash drives. I tested out the black 80GB, and was pleasantly surprised. What initially stood out for me was the nice 3.2-inch screen (diagonal) and the Zune Pad, a touch-sensitive button for navigating around. If you compare it to an iPod classic - yes, it blows it away.
This Zune Pad reminds me of a cross between the iPod classic's scroll wheel and a laptop computer's touchpad. You can use this to navigate the menus by sliding your finger in four directions. Items are selectable by clicking on the middle of the pad. As with an iPod, this allows you to skip through your songs, videos, photos and radio stations. Radio capability (FM only) is one thing the Zune has that the iPod does not.
It also has a glass screen, making it more scratch-resistant (in comparison to the plastic screen the first generation 30GB had). The user interface seems to have a more artsy, cleaner look than the original, along with its overhauled operating system. You can customize your background with just about anything, including images from your photo collection.
The biggest added features of Zune 2 are the wireless sync, extended wireless sharing and recorded television content to go. The wireless sync automatically synchronizes your Zune to your computer over your wireless network. It makes sure you have the latest podcasts and starts on its own when you plug it into its dock or plug it in to charge.
The extended wireless sharing allows you to share full-length songs, albums, playlists, pictures and podcasts from device to device. You can listen to any song you receive up to three times with no time restrictions, and pass along songs to your other Zune-using friends.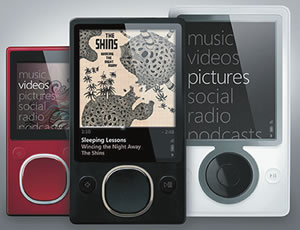 In comparison to the first generation, the new Zune is noticeably smaller and thinner, measuring in at 4.3 inches high by 2.4 inches wide by 1/2-inch deep. Microsoft basically tripled the storage capacity and made it physically smaller. The audio/video support hasn't changed much from the first Zune with its support of mp3, WMA, protected-WMA (Zune Marketplace) and AAC for music, and WMV, MPEG-4 and H.264 for video.
Additionally, Microsoft launched the Zune Social online beta website (www.zune.net/social). It's an online community that gives you a place to share your music tastes, experience, knowledge, etc. You can create a Zune Card that automatically updates to reflect the music you're listening to on your Zune or Zune software on your computer. It'll show your most recently played tracks and highlight your favorites. You can create a friends list, send messages and post comments. The goal is to eventually have the Zune Card enabled on the popular networking websites.
On the plus side, those features not available on the iPod make the new Zune appetizing, my favorite being the radio. Yet the biggest drawback for me is the software and the fact that it only works on a PC. The bottom line: I wouldn't give up any of my iPods for the Zune 2, but since I enjoyed it, I'll happily add it to my collection.
The 80GB goes for $249.99 (black only), 8GB is $199.99 and the 4GB is $149.99 (both flash models come in pink, green, black and glossy red). For your music downloads, the Zune Marketplace's Zune Pass (music unlimited) is a flat rate of $14.99.
Find these Zunes and accessories (AV Pack, Dock Pack, Car Pack, Cable Pack, Leather Case, Sync Cable, AC Adapter) at your nearest Best Buy (www.bestbuy.com) or on www.amazon.com. Log onto www.zune.net to discover more of the Zune world.
Most Recent Comment(s):