Getting Motivated With ExerBeat

By
.(JavaScript must be enabled to view this email address)
June 29, 2011
|
Share

Del.icio.us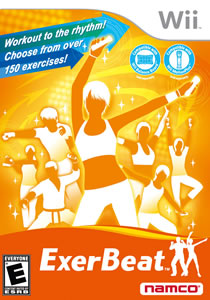 Photo courtesy Namco Bandai
The Nintendo Wii is known for popularizing motion-controlled gaming and has a stack of fitness titles to choose from. Most recently Namco's ExerBeat game caught my attention because of my need to slowly get back into shape after an injury. You can guess what the game does with the combined words "exercise" and "beat." In every exercise you need to stay on beat to receive high scores.
If you've ever used the Xbox Kinect or PlayStation 3 Move and experienced the freedom of movement using those platforms, going back to a Wii game is a little difficult. However, as long as you hold the remotes exactly as instructed, you'll be successful and the movements won't be horribly bothersome.
ExerBeat includes more than 150 basic exercises - dancing, martial arts, body conditioning and mini-game-type party games. Don't worry, you won't be walking into an intermediate aerobics or kung fu class, it's designed with the basic user in mind. The way you hold the controllers will determine your fun or frustration. Also note that exercises compatible with the Wii Balance Board and Wii MotionPlus are included to expand your gameplay options.
Various modes are available to encourage your healthy, ongoing fitness routine. An in-game personal trainer helps you customize your workouts based on personal goals and preferences, while daily and weekly challenges motivate you to consistently achieve accomplishments. You'll see data on estimated calories burned after each activity, and your daily, weekly and monthly progress as well.
Overall, ExerBeat is very simple and will keep you motivated if you're not already active. If you can deal with the things you'll have to hold on to, step over and calibrate, you'll have fun with this game. The key to the high scores is staying on beat and holding the controllers correctly. If you follow everything properly, you'll be on your way to burning some calories in a fun way.
ExerBeat is rated E for Everyone and you can find it at your nearest GameStop (gamestop.com) or Amazon.com for $20.

Click Chick's Mobile App of the Week: KAYAK
Although KAYAK has been around for a few years, I'm still thoroughly impressed by how cool it is. In case you don't know what KAYAK is or does, it's an interactive travel website that aggregates data from multiple sources and lets you view the results in one place.
Both website and app give you an innovative search tool that shows flight prices from almost any origin to destinations around the world. The results you see were found by KAYAK users in the last 48 hours.
It's been several months since I traveled, but last week I used the KAYAK app on my iPad to search for flights. Doing so reminded me of how much I love the app! You just type in your destination and travel dates, and thousands of results come back within seconds. Additionally, thanks to a recently added feature, there is a hotel button on the bottom of your screen, and when you click it, you'll see rates, location, amenities and photos from accommodations in your destination city. Thanks to KAYAK, I saved $200 on my plane tickets!
Visit kayak.com or download the app from the iTunes App Store (iPhone/iPod touch/iPad), Android Market or BlackBerry World.
Most Recent Comment(s):