Gitaroo Man Lives On Your PSP

By
.(JavaScript must be enabled to view this email address)
November 10, 2006
|
Share

Del.icio.us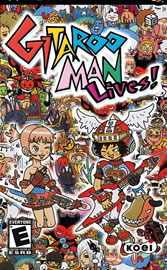 Gitaroo Man Lives! is one of my favorite games featured at this year's Electronic Entertainment Expo (E3). Developed by KOEI Corporation, it is based on the original Gitaroo Man for the PlayStation 2 (PS2), which debuted in 2002. It's packed with a mix of Japanese pop art, colorful characters and fun-to-play musical death matches. With a few modifications, this new version is optimized for portable play exclusively for the PlayStation Portable (PSP).
Gitaroo Man is the story of a young boy named U-1, often picked on at school, who dreams of becoming a skateboard master. He is trying to gain the attention of Pico, the most popular girl in school (and the girl of his dreams). He also is constantly trying to defeat Kazuya, the school's bully. U-1 has a secret power unbeknownst to him until Puma, his beloved dog, tells him about his true heritage. He is the last descendant of the legendary Gitaroo Men and it is his destiny to save the planet of Gitaroo from the clutches of the evil Gravillian family with his magical guitar. It is up to you, as U-1, to hold the courage to save the planet and your people.
Each song in Gitaroo Man is divided into three phases - Charge, Battle and Final. The way you play your Gitaroo determines what phase you end up in. The controls for Gitaroo Man Lives! are simple. You mainly use the analog stick and the circle and "X" buttons. You push these buttons as instructed on the screen as you follow along with the music. Sounds simple enough, but while the gameplay is easy when you first start, once you move up to the higher levels the game's quicker pace tests how fast your reflexes really are. The combos (i.e. pushing buttons simultaneously) become increasingly complicated and difficult as you level up. And (ha, ha) even my husband, the Guitar Hero expert, had a hard time with it on the higher levels.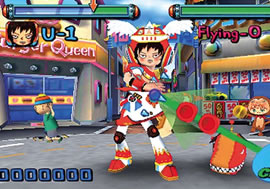 You can play Gitaroo Man Lives! on your own as a one-player deal, or you can play it as a two-player (in either duet or Vs. play) in three different levels of difficulty. The Duet and Vs. modes work just as single play, but you'll play a song alternating with your partner or opponent using the ad-hoc connection. Using the Duet mode, you (as Gitaroo Man) and the second player (Kirah) team up to fight a single enemy. When you play cooperatively, you perform your given parts both on your own and cooperatively. Playing in the Vs. mode, the battle ends when either player's power gauge reaches zero. If you folks make it through the entire song, whoever has the most power left wins. You can unlock more Vs. stages by clearing more stages in the Single Play. You'll also see 10 colorful stages from the original Gitaroo Man, and the music styles you hear range from Rock, Eurobeat, Reggae or Latin. Most of the music is done by COIL, and the Japanese pop artist 326 drew the illustrations.
If you have rhythm and love music games, Gitaroo Man Lives! will be perfect for you. Even if you already own the original PS2 version of Gitaroo Man, this will be an excellent addition to your collection since you can bring it with you with your PSP. As with all my other PSP games, this makes waiting around places, such as the doctor's office or sitting in heavy traffic, pass by very quickly.
Gitaroo Man Lives! will hit the store shelves next week (Nov. 14), is rated E for everyone, and sells for $39.99. You'll be able to pre-order or find it upon release at GameStop (www.gamestop.com) or CompUSA (www.compusa.com). If you pre-order it from GameStop, you will receive a free bonus (while supplies last): a five pin set that is only available online.
Most Recent Comment(s):