God of War: Chains Of Olympus for PSP

By
.(JavaScript must be enabled to view this email address)
April 11, 2008
|
Share

Del.icio.us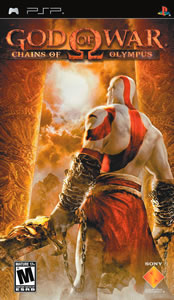 When God of War first came out for the Playstation 2 in 2005, I instantly became addicted to the game.It won multiple "Game of the Year Awards," then a couple years later in 2007, God of War II came along and scored high marks all around as well. Today's latest God of War: Chains of Olympus for Sony's PlayStation Portable (PSP) came out about a month ago and is on the same upward path. Prior to its release, it was considered the most anticipated game for the PSP.
"God of War: Chains of Olympus is a stellar achievement that truly shows off the capabilities of PSP and fully demonstrates our efforts to bring highly innovative and unique content to PSP," said Jeff Reese, director, software marketing, SCEA. "If you're a fan of the God of War universe or even just the action-adventure genre, God of War: Chains of Olympus delivers an epic gameplay experience and is a-must-own title."
One of the first things I noticed about Chains of Olympus' game-play is that it's amazingly true to the console versions. Note this also goes for the adult-ness of it, so a warning to the parents: This is a very mature, "Rated R"game. It's probably not a good idea to let your children play it.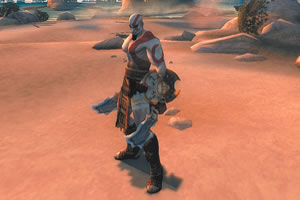 In the first God of War, you, as the Spartan Warrior Kratos, were deceived into killing your wife and daughter, and denounced service to Ares. Chains of Olympus takes place before this as a prequel, so you're serving the gods of Olympus and basically trying to decide what's best for you as the gods give you orders that create a moral dilemma within you. Throughout this, you'll face all sorts of creatures from Greek mythology, then ultimately choose your personal redemption or save the world from destruction.
As with the previous God of Wars, you'll find it very combat-oriented along with puzzles to solve. Most of the time you're on land during your fights, but sometimes you'll have to swim.You primarily fight using different combos along with your blades of chaos. Later on, you'll find the Gauntlet of Zeus, a giant glove that lets you topple your enemies easily.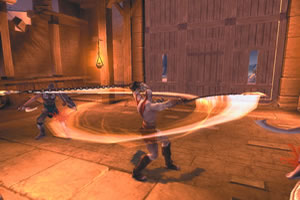 Each time your foe is killed off you'll receive red orbs that increase your health and magic. You also can find red orbs often in treasure chests and by hitting items (i.e. vase).
By the end of the game you'll be able to max out Krato's powers in no time.
When you play, you should use headphones, preferably noise-cancellation ones. It just adds so much to the game if you can hear every little detail. I noticed the load times are fast, and the frame rate is consistent. With all the characters you need to fight and the moving backgrounds, this is pretty impressive.
Chains of Olympus absolutely delivers on its expectation of being the most anticipated PSP game. I almost felt as if I was playing this right on my PlayStation again. The finish time is a bit short at only six to seven hours, and all the action definitely keeps it moving. When you finish it on the default level, you'll unlock some concept art, a bonus costume, video (on the default difficulty) and a couple of levels. Then you can go back and play these new levels in the ultra-hard god mode.
God of War: Chains of Olympus is rated M for Mature (ages 17+, for blood and gore,intense violence, nudity, sexual themes and strong language), and is $39.99 at your nearest GameStop (www.gamestop.com), Best Buy (www.bestbuy.com) or at www.amazon.com. Also note that a PlayStation 3 version will release sometime this year (no firm date yet). The ad for it is on the back of the game manual - can't wait for this one, too!
Most Recent Comment(s):