God of War III: Getting Revenge

By
.(JavaScript must be enabled to view this email address)
April 07, 2010
|
Share

Del.icio.us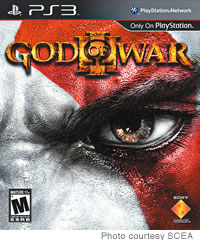 If you've played God of War II, you know the ending was a big cliffhanger.
The ex-Spartan warrior Kratos rode on Titan Gaia's back as she scaled Mount Olympus to pursue a challenge with gods versus the Titans along with Zeus and friends. This set God of War III up as the final game in the trilogy.
As with God of War I and II, God of War III is exclusive for the PlayStation 3 and is a single-player game set in the brutal realm of Greek mythology as you play Kratos. As you saw at the end of God of War II, this game starts you off scaling Mount Olympus on the shoulders of Gaia, and then takes you through the dark depths of hell to seek revenge on those who have betrayed you. You're armed with double-chained blades with an array of new weapons and magic, and you must take on mythology's darkest creatures while solving intricate puzzles throughout the merciless quest to destroy Olympus.
The very first thing that caught my eye was the stunning graphics. Kratos explores areas that are up to four times larger than in God of War II, and carve through armies while you ride on the back of Titans. We're talking living, moving breathing levels that are as tall as the Empire State Building. You'll see the signature God of War game-play with brutal combat, intricate puzzles and a compelling ending to Kratos' epic story.
One of my favorite features is the ability to ride the creatures. You can manipulate some of these menacing Greek mythological creatures against their will and use them to cross huge chasms, defeat your toughest enemies and reveal puzzles and secrets. Additionally, new deadly weapons such as the Cestus (powerful metal gauntlets with devastating strength) give you the ability to learn new techniques and launch explosive attacks.
Overall God of War III sticks to the strengths of its two predecessors and is even better. The combat is easy to master and the added moves and weapons give it more depth. The creative visual design along with the well-crafted puzzles stimulate your game-play senses. If you're a God of War fan, this is a must-have.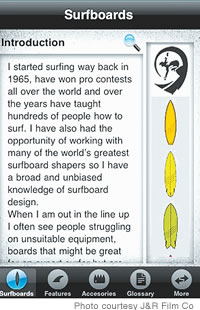 God of War III is rated M for Mature and retails for $59.99. Find it at your nearest GameStop (gamestop.com), Toys N Joys (toysnjoys.com) or Amazon.com.

Click Chick's iPhone App of the Week: Surfboards
Before you hit the waves, you want to make sure you have the board that suits you. Choosing the correct surfboard and equipment can be a confusing and complex experience. The Surfboards iPhone/iPod touch app written by world champion surfer Shaun Tomson is designed to help you make sense of the shape and design features that make up a surfboard. This app gives you an overview and explanation of the best equipment to go along with a surfboard to make the most of your surfing experience.
With this app, Tomson wants to put an end to surfers' guess-and-test method of surfboard consumption. "When I am out in the lineup, I often see people struggling on unsuitable equipment," he says. "When a person starts out on the surfing journey, the trip can be made infinitely easier if one starts out with the right equipment. This little application is designed to do just that: Help understand and select which board and equipment will be the most suitable right now to maximize the fun factor and make learning and improving as painless as possible."
The app features 15 of the most popular surfboard shapes with 50 hand-drawn illustrations. The board shapes are recommended to you based on your skill level, and there are 18 surfboard design features ranging from rails to rocker. In addition, choose from 15 essential accessories from wetsuits to wax. For the rookies, a 5,000-word surfing glossary and A Surfer's Code is available, along with a listing of master shapers and contact information.
Find Surfboards for $1.99 at the iTunes App Store.
Most Recent Comment(s):