Going Expert With Over G Fighters

By
.(JavaScript must be enabled to view this email address)
July 14, 2006
|
Share

Del.icio.us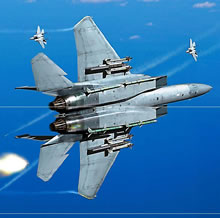 Over G Fighters
Being a huge modern aircraft fan, I'm always drawn to flight simulators. Usually the ones for game consoles (i.e. PlayStation 2, Xbox, etc.) aren't as accurate as the ones designed for PC gameplay. However, Ubisoft and Taito Corporation recently released Over G Fighters, which provides just the right balance of accuracy without being overly technical or complicated.
Exclusively available for the Xbox 360 console, Over G Fighters allows you to control a variety of more than 30 fighter jets in skies over North America, Europe, Asia and Africa, including the F/A-22 Raptor, F-15 Eagle, F-16 Falcon (now known as the Viper), MiG-29 Fulcrum or the F-117A Stealth Bomber. There are more than 40 missions you can fly, and they all take place in a modern-day global conflict. The only thing disappointing about the missions is that they are extremely short, lasting only about two minutes each.
If you don't want to go through the missions and instead just jump right into the action, you can go directly to Xbox Live and play with up to seven other players (total eight players possible) in single head-to-head dogfights or cooperative team play with squadrons. If you play it as a stand-alone, it is a one-player game.
If you are a flight simulator fan as I am, you'll find it frustrating to play Over G in the Beginner mode.
Make sure you set it up to play in the Expert mode. If you leave it in the Beginner mode, the game forces you to stay level the whole time. Expert mode gives you the opportunity for flying accuracy and better maneuvering of the aircraft.
My favorite part about the Expert mode is that it gives you the freedom to choose your own weapons. You can select what airto-air missiles and air-to-ground bombs to mount on your aircraft's rails (compatible to the plane you're flying). You'll have the experience of blacking out if you pull too many G-forces, or go into a stall if you fly too steep. It's difficult to gauge your speed, especially if you're not paying attention to your HUD (Heads-Up Display) indicators. If you fly to high altitudes, you'll visually see the clouds as you ascend, and see the stars in space. You can also run out of fuel and weapons, and unknowingly fly around with your landing gear down, which wastes fuel and causes your aircraft to drag. That happened to me when I first started out, and I didn't realize it until I watched the replays.
Speaking of replays, watching those gives you a good idea of how to improve your flying, and it also gives you the chance to admire the excellent graphics Over G has to offer.
If you're not about the realism, and care more for the excitement of having unlimited weapons to shoot up everything vs. careful tactics, you probably will be disappointed with this game, and Ace Combat for the PlayStation 2 (a game I reviewed recently) may be more for you. As for me, I thoroughly enjoyed the thrill of having to plan out each mission to just the right amount of weapon-ry I have on my plane so I would-n't run out of munitions to destroy my targets.
Over G Fighters is rated "T" for Teen and you can buy it for $59.99 at your nearest CompUSA or GameStop.
Most Recent Comment(s):
For all comments click here.