Going Wireless With RangeMax

By
.(JavaScript must be enabled to view this email address)
April 14, 2006
|
Share

Del.icio.us
If you don't already have a wireless network setup in your home or office, chances are you're probably searching for a good solution. Throughout the years I've used countless wireless routers both at home and work, but my favorite, and the latest to go through Click Chick's careful scrutiny is the NetGear RangeMax Wireless Router (Model WPN824).
As soon as I plugged everything in and configured the router and computer, I immediately noticed how powerful the signal strength was no matter where I took my laptop.
What sets the RangeMax apart from all the rest is that it has seven smart internal Multi-In, Multi-Out (MIMO) antennas that adapt on the fly to interference. These antennas give you more than 100 different antenna configurations to increase path diversity and select signal paths based on real time analysis of network performance and your radio frequency environment. An optimal signal path is identified and applied for each one of your computers (or devices) connected to the RangeMax. So even if you have other wireless networks in the area and you're talking on your cellular or cordless phone at the same time, the RangeMax signal will not be compromised.
If you already have an existing wireless network, chances are that you have some dead spots where you can barely see a signal, and your Internet connection fades in and out or completely drops off. I found you will not experience this with the RangeMax. Since your computer's data packets are always being monitored by the RangeMax, it is constantly re-optimizing your network connection without you noticing. NetGear claims the RangeMax offers up to 10 times the wireless coverage of a typical 802.11g connection with its capability to deliver up to 500,000 square feet of coverage.
With RangeMax's consistent stream of data, pesky connection drops are eliminated. You also do not have to worry about spending extra money for a range extender or repeater, however if you already happen to have these devices, they are 100 percent compatible with the RangeMax. Additionally, the computers in your RangeMax network can work and play safely with its double firewall protection. The WEP (Wired Equivalent Privacy) and WPA-PSK (Wi-Fi Protected Access, Pre-Shared Key) Security offer safeguards against unauthorized use from people searching for a vulnerable wireless network.
If you feel less than confident in setting up one of these, don't fret. NetGear's SmartWizard program makes the setup process painless. It will automatically detect your Internet service provider's network settings then walk you through each step of the installation process. Just don't forget to password protect your network.
By the way, you'll also enjoy the pleasant spinning blue light at the top of the router. Find a NetGear RangeMax Wireless Router (WPN824) of your own at CompUSA or Best Buy for $129.99.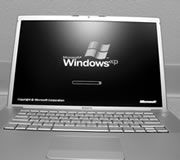 Boot Camp
Get Ready For Boot Camp. I never thought I'd see the day that I would see Windows running on a Mac. I've been regularly running Virtual
PC, a PC emulator, on my Mac for years, but it's just an emulator and it significantly slows down my computer. Last week Apple made it possible to run Windows XP natively on its new line of computers running with the Intel processor.
Apple released Boot Camp last week and we immediately jumped on the opportunity to install it on my husband's MacBook Pro. Forty-five minutes later, to our delight, it worked absolutely seamlessly. Boot Camp works as a dual boot after it installs a Microsoft partition on your hard drive. When you start the computer, it gives you the option to boot it in OS X or Windows XP.
Before you begin the install on your Intel Mac, make sure you have the latest version of OS X Tiger (version 10.4.6), the latest firmware update and 10 GB of free hard disk space, a blank recordable CD and a Windows XP installation disk with Service Pack 2. Boot Camp burns a CD with the drivers Windows needs to recognize Mac-specific hardware. The software helps you set aside hard drive space for the Windows installation without moving your Mac files around.
"Apple has no desire or plan to sell or support Windows, but many customers have expressed their interest to run Windows on Apple's superior hardware now that we use Intel processors, " said Philip Schiller,
Apple's senior vice president of worldwide product marketing.
"We think Boot Camp makes the Mac even more appealing to Windows users considering making the switch," he adds. Adding the Windows capability to Mac hardware may ease the transition for you Windows users to make a switch.
The public beta of Boot Camp is available as a free download at www.apple.com/macosx/bootcamp. The final full version of Boot Camp will be available as a feature of the soon to come Mac OS X version 10.5 "Leopard."
Most Recent Comment(s):