Goofy For Kingdom Hearts II

By
.(JavaScript must be enabled to view this email address)
March 31, 2006
|
Share

Del.icio.us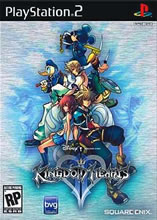 Kingdom Hearts II
Being a huge Disney fan, and recently visiting all the Disney parks in Florida, I am looking forward to Square Enix/Buena Vista Games' (interactive arm of Disney) latest game, Kingdom Hearts II. For those of you who have not heard of it, it's the sequel to the Kingdom Hearts, one of the top 10 best-selling PlayStation 2 games of all time, with shipments to North America totaling more than 2.6 million.
I was fortunate to play Kingdom Hearts II at last year's E3 Expo 2005, and after I saw how good it was, eagerly awaited it for almost a whole year to hit the store shelves. Well it finally did this week on March 28. As with its predecessor, it is a one-player role-playing game (RPG) made exclusively for the PlayStation 2. The game follows the main character, Sora, Donald and Goofy on their continuing quest following Kingdom Hearts. Sora is looking for his lost friend Riku, while Donald and Goofy are searching for their missing king. Sora and friends are joined by a vibrant cast of characters, including the king himself, and together they encounter countless dangers in both familiar and brand new worlds.
Kingdom Hearts II features a new and improved real-time battle system, which provides you an increased selection of commands, such as performing special attacks and cooperative attacks with members of your party. This adds strategy to your gameplay. You can also use "Drive" to transform Sora into his various forms that alter his skills and abilities. For example, the Brave Form allows Sora to absorb the power of Goofy, which allows him to use two keyblades. The Wisdom Form lets Sora absorb the power of Donald, increasing his magic power, and in the Master Form, Sora absorbs powers from both Goofy and Donald, increasing attack and magic powers.
The game includes an all-star voice cast led by Haley Joel Osment (The Sixth Sense and A.I. Artificial Intelligence) as Sora, and is joined by David Gallagher (7th Heaven) as Riku and Hayden Panettiere (Racing Stripes and Raising Helen) as Kairi. There are countless other well-known voices in there as well, including Christopher Lee (Charlie and the Chocolate Factory and Lord of the Rings: The Fellowship of the Ring), Steve Burton (The Last Castle and Taken) and Ming-Na as the voice of Mulan (ER and Final Fantasy: The Spirits Within) to name a few.
I highly recommend Kingdom Hearts II, as it will provide you with hours and hours of entertainment. You can find it for $49.99 at CompUSA, Software Etc. or Toys 'n' Joys, if it's not already sold out, or definitely online at their respective online stores: www.compusa.com, www.gamestop.com or www.toysnjoys.com. It is rated E10+ for ages 10 and up. Go to www.kingdomhearts.com for information or to find out more history about the game.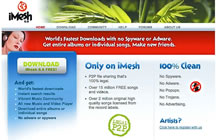 iMesh
Downloading Music For Free - Legally! Downloading digital music off the Internet became the latest trend around 1999 when companies such as Napster allowed home users to download free, but illegal, music using their respective peer-to-peer (P2P) software. You may remember the big legal battles that these companies went through against the music industry, then shortly after were shut down for a period of time. iMesh was a part of those legal battles, but unlike Napster, Grokster and Kazaa, iMesh prevailed with a $4.1 million payment and continued on. iMesh recently launched a new service that enables users to share about 15 million free songs and videos with P2P file sharing that is 100 percent legal. More than 2 million are original, high-quality songs licensed from the record labels. iMesh is able to do this because of an agreement it signed with digital music distributor MusicNet to supply it with songs. MusicNet's collection includes inventory from Virgin, HMV, Yahoo! and AOL.
Unfortunately, you won't find all songs on there for free, but the ones that do not have licensing agreements (are copyrighted), you have to pay 99 cents, the same price that Apple's iTunes sells its music for. All the songs that I happened to search for on iMesh came up free. If you anticipate downloading a lot of music, and are a more discriminating music downloader, you can pay $6.95 a month for the Premium Tracks. Or, if you're like me, you can just stick to the free P2P and disregard the monthly subscription fee. iMesh will definitely be a competitor to the iTunes Music Store, RealNetwork's Rhapsody and Napster (no longer a P2P service). Why would you want to pay 99 cents a song when you can legally download it for free? Don't get me wrong, I still like iTunes, but I guess I'm just a little bitter that over the years they've collected a few hundred dollars of my money from so many downloads ... ouch!
Oh well. Additionally, I'm impressed with iMesh's download speeds. I've downloaded songs as quickly as 30 seconds, and entire albums (containing 10-12 songs) within two minutes. That is much faster than I've ever downloaded anything off of iTunes. A soon-to-be competitor to iMesh is MashBoxx. It will offer legal P2P services very similar to iMesh. There is no official launch date, but you can sign up to be a beta tester at www.mashboxx.com
If it makes you feel any better for the artists' sake, iMesh's website includes a link for artists to register with them for the ability to monetize their content or prevent it from being traded on the iMesh network. Mesh your own free music together from www.imesh.com. Sorry Mac users, iMesh is only available for the Windows platform at this time.
Most Recent Comment(s):