Google Tech Support For Mom And Dad

By
.(JavaScript must be enabled to view this email address)
December 22, 2010
|
Share

Del.icio.us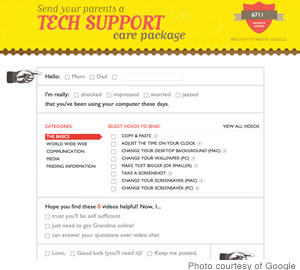 I can't tell you how many times I hear people talking about having to fix their parents' computers when they go home for the holidays, or any time of the year, for that matter. While I'm sure these folks love to help out Mom or Dad, it can be a small bummer to arrive home and find a long list of tech-support issues that can be fixed easily.
This is such a common occurrence that last week some of the employees at Google launched a website called TeachParentsTech.org. Meant to save hours of valuable family time this Christmas, it's a "tech support care package" for us kids to teach our parents computer basics.
TeachParentsTech.org is filled with more than 50 basic how-to videos that you can send to your parents, or really anyone who might need a little tech help. These videos cover a wide range of topics from copying and pasting to how to video chat (one that I had to deal with recently). Each video is very brief (less than a minute), so they should be able to sit through them without their eyes glazing over.
The website is very straightforward. You select Mom, Dad or type in a name from the checkboxes, tell them how shocked/impressed/worried/j azzed he/she has been when using his/her computer. Then you check off all the videos you think they need, and off it goes.
According to the Google Blog, the first 10,000 "served" will have the opportunity to send off a snail mail package as well. But when I tested this out, it was well over 6,500 (on the first day), so I'm sure it'll be more than 10,000 by the time this story publishes. Plus, I didn't see any option for me to send a snail mail package, so I don't know how true that is.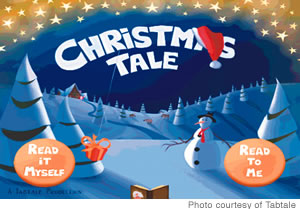 If you need to save yourself a few hours this Christmas, make sure to send your techie care package to your favorite person in need of tech help.

Clickk Chick'ss Mobile Appp off thee Week: Christmass Tale
As Christmas is almost here, if you are an iPad owner (especially if you have keiki around), you need to download Christmas Tale for iPad. It's a festive holiday book that's great for Christmas lovers both young and old. The Christmas spirit unfolds as you meet Santa at his home in the North Pole and join him as he brings joy and happiness to all the children of the world.
As with most iPad books, you can either "Read it Myself" or "Read to Me." Each page allows you to take your time and find the joyful interactions. If you can't find them all, click "Tips" to reveal all the hidden features. Additionally, you can count down the days to Christmas with Santa, and make a wish list and store/send it via e-mail later. You'll find a Christmas piano hidden in the Christmas tree, which you'll discover as you decorate the tree. The piano's notes are activated by pushing on the ornaments.
This app used to be free, but it's now 99 cents on the iTunes App Store - a small price to pay for some holiday cheer!
Most Recent Comment(s):