Google's New Phone And Browser

By
.(JavaScript must be enabled to view this email address)
October 01, 2008
|
Share

Del.icio.us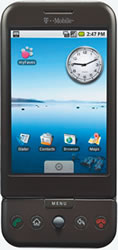 Last week, T-Mobile unveiled the much-anticipated T-Mobile G1, aka the "T-Mobile G1." It's the first phone powered by Android (software platform/operating system developed by Google), and comes with a full touch-screen with a QWERTY keyboard, and includes the Google products you've come to know and love: Google Maps Street View, Gmail, YouTube and more.
"We are proud that T-Mobile is the first operator in the world to launch an Android-powered mobile device," says Christopher Schläffer, group product and innovation officer of Deutsche Telekom. "With the T-Mobile G1, we are continuing our strong tradition of being pioneers in the world of the open Internet."
Key features of the Google phone include:
* Three-megapixel camera with photo sharing capabilities
* Pre-installed 1GB Micro SD memory card (phone can take up to an 8GB card)
* Built-in messaging client with support for Google Talk, AOL, Windows Live Messenger and Yahoo! Messenger
* Trackball for one-handed navigation
* Full HTML web browser and zoom function
* Music player that supports mp3, m4a, AMR, WMA, MIDI, WAV, Ogg Vorbis formats
* GPS, Bluetooth and T-Mobile's myFaves-enabled * Voice recognition, voice dialing and speakerphone
"Increasingly, connectivity does not just mean a phone call, but rather access to the world's information," says Andy Rubin, senior director of mobile platforms for Google. "Today's news signifies an important first step for the Open Handset Alliance: With Android, we've opened the mobile Web not only for millions of users, but also to mobilize the developer community that understands the next most important platform in the world rests in the palm of our hand."
My guess is this is supposed to be an iPhone competitor. I haven't been able to see one of these up close yet, but it looks good in pictures. We'll see it in black, brown or white, and you can pre-order it at www.T-MobileG1.com or wait until Oct. 22 and pick it up at your nearest T-Mobile retailer. Full retail price for the TMobilG1 is $399.99; for current T-Mobile customers eligible for a two-year upgrade, the price is $179.99 ($20 cheaper than a 8GB iPhone) with a two-year voice and data agreement.

Google's Chrome Browser

Google ChromeTM is a new open-source browser designed to create a better Web experience for you. It's available in 40 languages and is designed to make it better by adding a combined search and address bar that quickly takes you where you want to go in a few keystrokes. Additionally, when you open a new tab, you'll see a page that includes snapshots of your most-visited sites, recent searches and bookmarks, making it easier to navigate the Web.
"We think of the browser as the window to the Web - it's a tool for users to interact with the Web sites and applications they care about, and it's important that we don't get in the way of that experience," says Sundar Pichai, vice president of Product Management, Google Inc. "Just like the classic Google homepage, Google Chrome has a simple user interface with a sophisticated core to enable the modern web."
Google Chrome was engineered to give you a seamless Web experience. Each browser tab operates as a separate process - by isolating the tabs, if one tab crashes, the other ones will remain stable and responsive. Additionally, Google built a new JavaScript engine, V8. Not only does it speed up today's Web applications, it enables a whole new class of applications that could not exist on today's browsers.
Google Chrome is only available for Windows, and is in development for Mac and Linux (and hopefully will be ready in a few months). Download it for free at www.google.com/chrome.
Most Recent Comment(s):