Great graphics make Devil May Cry 4

By
.(JavaScript must be enabled to view this email address)
February 15, 2008
|
Share

Del.icio.us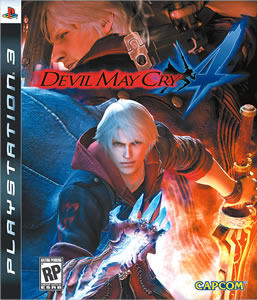 Devil May Cry 4 (DMC4), the latest in this popular series from Capcom, came out last week for PlayStation 3 (PS3), Xbox 360 and PC. My choice is the PS3, but one of the very first things you need to do with this version is let the game load some files onto your console's hard drive. Thankfully it's a onetime deal that only takes 20 minutes.
PS3 is the only version on which you have to do this file load, but I think it's worth it because it made the screen loads almost seamless and very quick.One of the first things I noticed about the game-play is the phenomenal graphics. You can see beautiful landscapes,sunsets,buildings and details on the characters.
Although this is the fourth in the Devil May Cry series, if you're a newbie, having played the first three is not a requirement. The storyline explains itself as you play through it, but it is nice to know the background if you aren't familiar with it: Long ago the Dark Knights of Sparda rebelled against the dark emperor and waged a one-man war to save humanity. Thousands of years later, here and now, a religious organization worships this savior and takes it upon itself to rid the world of evil.
The game then begins with you as Nero, and you witness Dante slaughter your leader and fellow warriors. At first, I was kind of thrown off because in previous DMCs you play through the game as this Dante, a mercenary dedicated to the extermination of demons using superhuman abilities.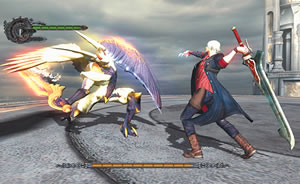 In DMC4, you play most of it as Nero, a knight in the Order of Maken with a sworn oath to annihilate all demons. Nero is extremely similar to Dante as far as moves, weapons and personality. Hardcore DMC fans need not worry, since you do play as Dante for part of the game along with his array of weapons and fighting styles. It would have been good if the game went into more detail about the connection between the two characters.
If you've played Devil May Cry 3 at all, this will be a relief to you. That version was much more difficult than this one is. DMC4 is no walk in the park, but its challenge is just about right. As Nero, you're known for your demonic arm, the devil bringer. With this you can grab onto enemies, pull them, pick them up and slam them all over the place for some high-score combos. Throughout the game, you'll encounter a number of secret missions along with your regular missions and puzzles to solve.At the end of each regular mission, you'll encounter a big boss to defeat. This can become slightly repetitive, as the bosses start to look similar after a while.
DMC 4 also comes from the same producer as the popular Resident Evil 4. The nice graphics are attributed to the High-Definition 720p visuals that move at 60 frames per second.You'll see a blend of old and new: Of course, Nero clashes with Dante, and appearances from Trish, Lady and others from the series.
Overall, I definitely give Devil May Cry 4 a thumbs up.My favorite aspects are, hands-down, the graphics, cool weapons and moves you can do. Because the game is loaded partially on my PS3's hard drive, I think it helps it run more smoothly. The only "bad" thing I noticed about DMC4 is that the boss fights seem to be similar and feel somewhat repetitive. Not that big of a deal for me. Note: This is not a game for young children.
It is rated M for Mature (ages 17+) and goes for $59.99 at your nearest GameStop (www.gamestop.com) or www.amazon.com (free shipping). Additionally, the special collector's edition is $79.99 and includes the game along with a ton of extras - Volume 1 of Devil May Cry: The Animated Series (DVD), four anime episodes, Making of Devil May Cry 4, music, digital artbook, and screensavers, wallpaper and icons you can use for your computer. Check out the website at www.devilmaycry.com for some free downloads and more game info.
Most Recent Comment(s):